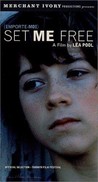 Summary:

Set in 1963 Montreal, Lea Pool's coming-of-age story examines the life of a 13-year-old girl (Vanasse) who escapes her life as the illegitimate daughter of a struggling Jewish writer and a Catholic seamstress through her love of films. She adopts an unlikely role model in the prostitute

Set in 1963 Montreal, Lea Pool's coming-of-age story examines the life of a 13-year-old girl (Vanasse) who escapes her life as the illegitimate daughter of a struggling Jewish writer and a Catholic seamstress through her love of films. She adopts an unlikely role model in the prostitute heroine of Godard's "Vivre sa vie."

…

Expand
Director:

Léa Pool

Genre(s):

Drama

Runtime:

95 min
Aside from the effectiveness of Set Me Free as a coming-of-age story, it's also one of the most poetic avowals of love for movies that I've seen in years.

Nicely acted and inflected, this is a very fresh piece of work.

Karine Vanasse, as the protagonist Hanna, is perfectly cast because she has the body of a woman and the sweet, sexless face of a child.

Exquisite and fragile in visuals and tone, yet has some difficulty with a choppy narrative.

Shows us a filmmaker, unafraid of her emotions, unafraid to mine her past, someone clear-eyed, non-egoistic, full of life and warmth.

Stands apart from the trite conventions of most coming-of-age drama chiefly through the originality of Pool's approach and the honesty and conviction of Karine Vanasse's portrait of Hanna.

A slice of life that adds up to exactly the sum of its parts, no more, no less.