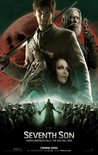 Starring:

Alicia Vikander

,

Ben Barnes

,

Jeff Bridges

,

Julianne Moore

Summary:

In a time long past, an evil is about to be unleashed that will reignite the war between supernatural forces and humankind. Master Gregory (Jeff Bridges), the last of the Falcon Knights, had imprisoned the malevolently powerful witch, Mother Malkin (Julianne Moore), many years ago, but now

In a time long past, an evil is about to be unleashed that will reignite the war between supernatural forces and humankind. Master Gregory (Jeff Bridges), the last of the Falcon Knights, had imprisoned the malevolently powerful witch, Mother Malkin (Julianne Moore), many years ago, but now she has escaped and is seeking vengeance. Summoning her followers of every incarnation, Mother Malkin is preparing to unleash her terrible wrath on an unsuspecting world. Only one thing stands in her way: Master Gregory. In a deadly reunion, Gregory comes face to face with the evil he always feared would someday return. He has only until the next full moon to do what usually takes years: train his new apprentice, Tom Ward (Ben Barnes) to fight a dark magic unlike any other. Man's only hope lies in the seventh son of a seventh son.

…

Expand
Director:

Sergey Bodrov

Genre(s):

Action

,

Adventure

,

Fantasy

,

Family

Rating:

PG-13

Runtime:

102 min
Please enter your birth date to continue:
You are not allowed to view this material at this time.
By-the-numbers, generic plots no longer work and that, unfortunately, is what Seventh Son delivers. Impressive set design and visuals, excessive CGI, and a loud score from Marco Beltrami can't fully compensate for bland character development and a predictable narrative that rushes along on a linear trajectory.

The result is a movie that serves as little more than an excuse for Moore and Bridges to camp it up.

Though the film sat in drydock for a year, partly so technicians could convert it to 3-D, it looks as dull as it sounds.

Director Sergei Bodrov's movie is based on a kids' book in which Tom was a 12-year-old, and the actors wisely pitch their performances to a young crowd.

The only question that's worth considering in Seventh Son is whether this all-star B-movie is bad enough to cost Julianne Moore her "Still Alice" Oscar. And the answer to that is, "Not really."

Torching "witches" is the one part of the story that has some historical basis, and adds an uncomfortable edge of misogyny to this otherwise empty fantasy.

Nothing in Seventh Son is compelling, interesting or noteworthy, though you can feel the strain of the filmmakers attempting to set up a potential franchise.
i loved this movie. i have no excuse, maybe it was Jeff Bridges voice which i cannot replicate but it worked for me. i usually trust the

i loved this movie. i have no excuse, maybe it was Jeff Bridges voice which i cannot replicate but it worked for me. i usually trust the viewer reviews more than the critics for some reason. still, i thought this was better than Jupiter ascending, which i forgot the next day. i love scifi and fantasy and special effects. i cant say this was the greatest movie but i did just like it.

…

Expand

A fantasy adventure film needs more than "cool creatures," a rousing score, and two certifiably over-the-top performances to make a lasting

A fantasy adventure film needs more than "cool creatures," a rousing score, and two certifiably over-the-top performances to make a lasting impression.

Watch this movie online http://www.watchfree.to/watch-1a4eb7-Seventh-Son-movie-online-free-putlocker.html

…

Expand

This is a baseline for any action movie. The beginning hooks you but the plot becomes mediocre eventually. Regular viewers of any action movie

This is a baseline for any action movie. The beginning hooks you but the plot becomes mediocre eventually. Regular viewers of any action movie will be uninterested in this but you'll get some enjoyment out of this movie. Best as just a rental.

…

Expand

For the first two thirds of the film you don't care about any of the characters. There's just no development of any of the characters you may

For the first two thirds of the film you don't care about any of the characters. There's just no development of any of the characters you may get the premise but the dialogue means nothing. The final third was the most interesting and at least kept my attention. D+

…

Expand

Seventh Son is the latest pile of trash to come out this year. Unoriginal, boring, horrible acting and a movie that makes no sense. At least

Seventh Son is the latest pile of trash to come out this year. Unoriginal, boring, horrible acting and a movie that makes no sense. At least the visuals kept your eyes from closing.

…

Expand

Overall I really disliked Seventh Son, it was so boring. It had a script of a film that I had seen a hundred times and it's been done better

Overall I really disliked Seventh Son, it was so boring. It had a script of a film that I had seen a hundred times and it's been done better before and it wasted a brilliant ensemble cast. How you have a film with Julianne Moore and Jeff Bridges in and you don't get a decent performance, I will never understand, and it is a sign of poor directing. The 3D was laughable and I think actually impeded the film I was watching and the action sequences were really varied in quality. It's a very bland, very forgettable film and if I haven't forgotten about most of it in a week, I will be amazed!! I won't be surprised if this film turns up in my worst films of 2015 list, although it is way too early to speculate on that. The ending of the film eludes to this becoming a franchise PLEASE NO!

…

Expand

Well I was not happy with this movie! The book was so amazing and clever but the movie didn't follow it he was a 12 year old boy and Alice

Well I was not happy with this movie! The book was so amazing and clever but the movie didn't follow it he was a 12 year old boy and Alice ended up being his friend not. Girlfriend! The special effects were good but that's it!

…

Expand