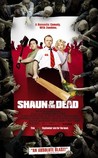 Starring:

Kate Ashfield

,

Nick Frost

,

Simon Pegg

Summary:

This "rom zom com" (romantic zombie comedy) follows the bloody funny adventures of underachiever Shaun (Pegg) and his best mate Ed (Frost) as they cope with a zombie invasion of North London and attempt to rescue Shaun's girlfriend Liz (Ashfield) and his Mum (Wilton). It's going to be one

This "rom zom com" (romantic zombie comedy) follows the bloody funny adventures of underachiever Shaun (Pegg) and his best mate Ed (Frost) as they cope with a zombie invasion of North London and attempt to rescue Shaun's girlfriend Liz (Ashfield) and his Mum (Wilton). It's going to be one hell of a weekend. (Rogue Pictures)

…

Expand
Director:

Edgar Wright

Genre(s):

Horror

,

Comedy

Rating:

R

Runtime:

99 min
Please enter your birth date to continue:
You are not allowed to view this material at this time.
Whatever you want to label this quick-paced crowd-pleaser, it is definitely one of the year's must-sees.

Mixing horror and humor is no mean feat, but Shaun Of The Dead tightens throats in fear without making the laughs stick there in the process.

Pegg and director/co-writer Edgar Wright mix numerous references to other zombie flicks with hilarious bits of their own. The best has Ed and Shaun deciding which LPs can be used as ammo.

A classic example of a clever idea that could easily have run out of steam halfway. However, co-scripters Pegg and Wright structure it as a classic three-acter (set-up, journey, finale) with enough twists, character development and small set pieces to keep the comedy boiling.

For those who like their spoofs silly and their cartoonish gore vivid, Shaun offers some amusement.
This movie is bloody brilliant. Action-packed, hilarious and gory. The writing is funny, the acting is great, and the directing is superb. I

This movie is bloody brilliant. Action-packed, hilarious and gory. The writing is funny, the acting is great, and the directing is superb. I highly recommend it.

…

Expand

i love this film. it's hilarious with amazing writing and acting, edgar wright is really selling himself as an amazing director and writer and

i love this film. it's hilarious with amazing writing and acting, edgar wright is really selling himself as an amazing director and writer and this film along with the other films in the cornetto trilogy will be what he is remembered for. for the love of god if you haven't seen it go and see it now it's an excellent parody of romantic comedies and zombie movies and one of my all time favourite movies

…

Expand

My favorite zombie movie of all time. Stays respectful to its inspiration through the hilarious parody.

This review contains spoilers, click expand to view.

This has to be one the most original comedies in years. It mixes the genre of horror spectacularly with the comedy. With such a depressing subject which has been explored by people such as George A. Romero, it's not the first zombie comedy, but I do think it is the best. The lines are great, the irony is clever, and each scene leaves you with a smile. Edgar Wright is a brilliant director and I am a fan of his works that I've seen. What works in his movies is the characters are so realistic and you can immediately identify with them. An example would be Ed, he is such a jerk but he's the kind of friend you've known forever. I think everyone has had this type of friend in their life at one point or another. Edgar Wright also has great symmetry with his movies, such displayed early on with two near identical long takes, that are just beautiful to behold. Also nearly every line has a just payoff, making the dialogue also very clever. The comedy is hilarious, the characters are great, and the editing is fast-paced and brilliant which leaves this movie impossible to keep your eyes off.

…

Expand

This is clearly the best zombie parody I have ever seen, it beats actual zombie movies by a long shot!

I love how an actually hilarious attempt to be based on "(BLANK) of the Dead" line is better than House of the Dead, a movie based on the Sega

I love how an actually hilarious attempt to be based on "(BLANK) of the Dead" line is better than House of the Dead, a movie based on the Sega game. It always gets me to think logic once again. Shaun of the Dead never runs out of laughs or scares.

…

Expand

Shaun of the Dead is a tasteless, disgusting piece of work with very little redemption or justification for all its gore. It's plot points are

Shaun of the Dead is a tasteless, disgusting piece of work with very little redemption or justification for all its gore. It's plot points are stupid and hypocritical, the characters are some of the most annoyingly stupid people I've ever seen on a screen, and the movie feels decidedly incompetent. One of the worst movies I have ever seen.

…

Expand