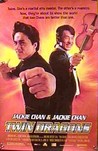 Starring:

Jackie Chan, Maggie Cheung

Summary:

Two long lost twins (Chan) -- one a gangster from Hong Kong and the other a classical pianist from New York -- are in the same city at the same time, unbeknownst to each other, leading to a series of comedic instances of mistaken identity.
Director:

Hark Tsui

Genre(s):

Action, Comedy

Rating:

PG-13

Runtime:

100 min
The real fun is in seeing Hong Kong pop cinema at its innocent, crowd-pleasing best. And for Jackie, that goes double.

Ticket buyers get two Jackie Chans for the price of one in Twin Dragons, but the pic itself is no great bargain.

Mindless escape. [12 April 1999, Calendar, p.F-4]

The only worthwhile portion of Twin Dragons is the climactic action sequence, but, to get to that, it's necessary to endure more than an hour of unfunny physical comedy and excruciating verbal interaction.