Release Date:

Aug 21, 2009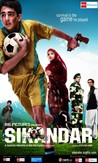 Summary:

Sikandar Raza is a 14-year-old schoolboy in Jammu & Kashmir, India. Ever since his parents were killed by militants 10 years back, he has lived with his aunt and uncle in a small town in Kashmir. All of Sikandar's desires revolve around the happiness of his foster parents, and getting the

Sikandar Raza is a 14-year-old schoolboy in Jammu & Kashmir, India. Ever since his parents were killed by militants 10 years back, he has lived with his aunt and uncle in a small town in Kashmir. All of Sikandar's desires revolve around the happiness of his foster parents, and getting the ball into the goal on the football field. One day on his way home from a school football match, Sikandar finds a gun lying on the path. Despite admonishments by his newly-made school friend, the 14-year-old Nasreen, Sikandar picks up the gun and thus begins a journey into the darker side of his nature. (Big Picture)

…

Expand
Director:

Piyush Jha

Genre(s):

Drama

,

Mystery

,

Thriller

,

Crime

Runtime:

110 min
Had it been crafted with a bit more depth and finesse, writer-director Piyush Jha's involving thriller Sikandar"might have had the potential to reach beyond the average Bollywood import's core audience. Still, the film boasts a significant story with several effective plot twists that make it worth a look.

Despite the cliché-riddled translation and super-corny sound design, writer-director Piyush Jha presents an affecting account of the Kashmir conflict through the struggles of its children.

This odd, unsuccessful movie, written and directed by Piyush Jha, is too rigged to have any broader implications about the bloody standoff in Kashmir between militants and the Indian Army.
But somewhere in this short and sweet look at a paradise subverted you miss that elevating quality which defines socio-political reality in

But somewhere in this short and sweet look at a paradise subverted you miss that elevating quality which defines socio-political reality in cinematic terms. Nonetheless "Sikandar" is a sensitive and gentle depiction of life in an idyllic place where guns have overpowered the roses. Rated UA for violent content including some disturbing images, depiction of war, and some language.

…

Expand