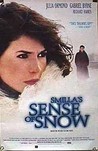 Starring:

Julia Ormond

Summary:

Set in Copenhagen, this mystery features Julia Ormond as a half-Inuit, transplanted Greenlander and snow expert who begins her own investigation when a neighbor boy falls from the building's roof.
Director:

Bille August

Genre(s):

Action

,

Drama

,

Thriller

Rating:

R

Runtime:

121 min
Here is a movie so absorbing, so atmospheric, so suspenseful and so dumb, that it proves my point: The subject matter doesn't matter in a movie nearly as much as mood, tone and style.

This story has now been gracefully adapted by Bille August into a sleek, good-looking film that captures the book's peculiar fascination.

Drips along about as slowly as a polar ice cap and leaves both those who know the international thriller on which this creepy-doings-off-the-coast-of-Greenland yarn is based and those who don't out in the cold.

It doesn't help that Julia Ormond -- perhaps the most un-Smilla-like actress walking the planet -- is cast in the starring role. She gives a competent performance, but she looks like Nancy Drew's pert-nosed cousin who somehow got trapped while sleuthing inside a snow globe, not the prickly, androgynous warrior Smilla is meant to be.

The matter-of-fact way in which the story is presented serves as a constant reminder of how implausible the whole thing is. Add to this the single expression Ormond and Byrne are allowed throughout the film, and you're left with one more weak, confusing, ignorable movie that embarrasses its source.

The movie is gorgeously filmed and contains some fascinating lore about life in northern climes. But the plot is tritely predictable and far-fetched. Julia Ormond, Gabriel Byrne, and Vanessa Redgrave are among the performers who deliver less than their best.