Release Date:

May 25, 1983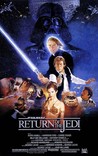 Starring:

Carrie Fisher

,

Harrison Ford

,

Mark Hamill

Summary:

The Millennnium Falcon flashes through hyperspace and creatures from all over the galaxy defy the Galactic Empire. After rescuing Han Solo (Harrison Ford) and Leia (Carrie Fisher) from certain doom at the hands of crime lord Jabba the Hutt, Luke (Mark Hamill) rejoins Yoda. Only by completing

The Millennnium Falcon flashes through hyperspace and creatures from all over the galaxy defy the Galactic Empire. After rescuing Han Solo (Harrison Ford) and Leia (Carrie Fisher) from certain doom at the hands of crime lord Jabba the Hutt, Luke (Mark Hamill) rejoins Yoda. Only by completing his Jedi training can he become a true Jedi Knight and defeat Darth Vader and the dark side of the Force.

…

Expand
Director:

Richard Marquand

Genre(s):

Action

,

Adventure

,

Sci-Fi

,

Thriller

,

Fantasy

Rating:

PG

Runtime:

134 min
Please enter your birth date to continue:
You are not allowed to view this material at this time.
Among the ties with the past, the opening portion introduces a comic orgy that is deliberate parallel cantina scene in "Star Wars" and among the new thrills there is an airborne vehicle chase through a forest, projected at a speed to leave audiences dizzy.

'Return of the Jedi' is fun, magnificent fun. The movie is a complete entertainment, a feast for the eyes and a delight for the fancy. It's a little amazing how Lucas and his associates keep topping themselves.

Best of all, a revisit with Jedi makes a viewer appreciate spectacle, presentation, mythology -- that, and the power of a bitchin' helmet to speak volumes in a language even an alien can understand. [Special Edition]

Brings things to an almost cheesy conclusion. Given the gripping, dark elements that creator George Lucas introduced in the two previous films, the third movie's outcome smacks of PG-rated populism rather than artistic fulfillment. But the experience is still highly entertaining. [Special Edition]

All the parts of Return that deal with Luke's faith in his father and his appeals for him to reject the dark side of The Force are very emotional. In fact, the best sections of Return are extensions of the melancholy implications of "The Empire Strikes Back." [Special Edition]

Ultimately, Jedi even backs off some of the more tantalizing possibilities suggested by the cliffhanging scenario of "Empire." This inhibition appears to grow out of consideration for the feelings of the juvenile audience, which can enjoy an abundance of thrills and close calls while resting assured that nothing catastrophic is going to be fall the heroes.

There is hardly any point in discussing the direction of a picture like this, in which almost every shot has been predetermined by the requirements of the special effects, yet director Richard Marquand fluffs the two or three real opportunities he has, rendering the long-delayed character climaxes with a chilly indifference.
The best of the series (and an amazing series it is). This is the quintessential sci-fi/fantasy movie. I love everything about it. It's easily

The best of the series (and an amazing series it is). This is the quintessential sci-fi/fantasy movie. I love everything about it. It's easily in my top 5 movies of all time.

…

Expand

Despite it not being the best of the series, this one is still my favorite. The character development tops off here and is very nice to see

Despite it not being the best of the series, this one is still my favorite. The character development tops off here and is very nice to see the final battle all work out. The scene with Luke, Vader, and Palpatine in the throne room was one of the best final confrontations I have ever seen on film and it was a great payoff. The ewoks weren't really that needed but I can see why they were there. After the film that was Empire Strikes Back, I can see why George thought that we needed that in the film. It was also a nice little ending to see Han and Liea get together and be happy. The scene with Vader and Luke at the end before the death star is a very touching scene before he died. It was also great to see Vader turn on his master and save the day. Bringing Qui Gon's wish from the Phantom Menace come to full conclusion. A great film that is by far the most underrated of the older movies.

…

Expand

This review contains spoilers, click expand to view. As a child, this was my favorite movie. As I've grown older, I now realize some of its flaws. The odd movements of stop motion AT-STs ans puppeteer operated Hutts are a bit disconcerting to look at, but nothing can take away from the thrill I still get inside every time I watch this movie. Richard Marquand does an excellent job incorporating fun, and swashbuckling antics into a movie that depicts a battle for the fate of the galaxy. Be it the opening scene on Jabba the Hutt's sail barge, or the wicked fast speeder chase, whatever is happening the kid in you can't help but be excited. Star Wars has always been something of a love letter to Lucas's childhood, and the sheer juvenile glee is infectious.
The Space Battle at the end is just awesome, cashing in on the thrill of sheer spectacle. One shot in particular is the moment in which an out of control A-Wing fighter crashes into the bridge of a star destroyer. Critically damaged, it begins to go downward, and i n a brilliant flash of light, the battleship explodes into the death star.
Luke's duel with Vader is similarly epic. He Is passive for most of the fight. Retreating as Vader advances. Suddenly, he snaps, and here the credit goes to Hamill. We see the remorse on his face, Luke has no desire to fight Vader, and yet, there is also a primal rage. This duel is not choreographed, it is an expression of raw emotion, depicting the eternal struggle between good and evil, and ending the final installment of the trilogy with an immensely satisfying bang.

…

Expand

Of the original trilogy this is undoubtedly the weakest film. However this does not make it a BAD film - just far less impressing than A New

Of the original trilogy this is undoubtedly the weakest film. However this does not make it a BAD film - just far less impressing than A New Hope and The Empire Strikes Back. Despite this, it is still an exciting film that could have been done far worse and serves up as a satisfactory, if not perfect, ending to one of the best science fiction films of all time. Collapse

…

Expand

After witnessing two great Star Wars movies, I was super stoked to see the conclusion of the original trilogy. 2 hours later, I realized that

After witnessing two great Star Wars movies, I was super stoked to see the conclusion of the original trilogy. 2 hours later, I realized that I didn't love this movie. Granite, it's not bad at all, but it didn't fully deliver as an all around exciting finale. Let me get my negatives out of the way. The style of this movie didn't seem as cool as before. The previous two movies had great affects for there time and still hold up pretty well. The effects in this movie are easily outdated. And because of that it sometimes took me out of the movie. I also didn't find all the characters to be well written and I think the performances kind of show. For me, it's mainly from Han and Leia. I understand that Han is going through a character arc, but he doesn't feel like the Han Solo I knew from the previous too movies. Leia was kind of the same way, but not to the extent I felt with Han's character. And of course, the ewoks. Granite they are not Jar Jar bad by any means, but seem to cute for a movie that should be more of a fulfilling finale. I don't think they truly needed to be written in the movie. Now for the good! While I mentioned some of the writing wasn't as well written with certain characters, Luke Skywalker was great. I love him becoming a Jedi and journey he goes on to confront Darth Vader. In fact, that whole storyline is what I loved the most. The confrontation, the lightsaber fight towards the end, everything going on in those scenes were nothing short of perfection. In many regards, that should be the case since this is the main story we are following. I even loved the emperor. While I got a taste of what he was like in the prequels, it felt like I met this character for the very first time in this movie. And I loved how he wasn't simply over the top, but he was very controlling and threatening. I thought he added a lot to the confrontation between Luke and Vader. And then we get to the cute party scene at the end and the series is over... For now! Overall, even with its flaws, there's still lots of good that comes out of it as well. But it's not always well rounded all the through like I hoped. Nevertheless, I still liked "Return of the Jedi" and I'm going to give it a B!

…

Expand

probably the one of the worst film ever made. i mean the worst film to the end of the series. even the phantom menace is better. the plot was

probably the one of the worst film ever made. i mean the worst film to the end of the series. even the phantom menace is better. the plot was terrible. i don't know why george lucas written return of jedi so awful. the only one good thing from this movie: visual effects.

…

Expand