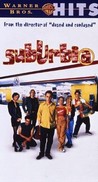 Mr. Bogosian's venomously funny play, which he adapted himself for the screen, is given warmth and generosity by Mr. Linklater, whose elegantly fluid direction and great skill with actors are accentuated by the play's spareness.

Nevertheless, the cast of mainly unknowns is so good, and Linklater is so adept at playing them off one another, that the two-hour running time never seems overextended.

It has a tendency to drift aimlessly and, having said all there is to say on the subject long before the two hours are up, loiters around when it really ought to have gone to bed.

The picture often rambles as aimlessly as its characters, but its vivid depiction of alienation and self-destructiveness among suburban youth has much cautionary value.

subUrbia is a letdown, but at least it reminds us of how innovative Richard Linklater has been until now.

Onstage, trapped in the mini-wasteland of the parking lot, the creeped-out kids crackled like lightning in a bottle. Linklater's meager attempts to open up the movie drain its energy.