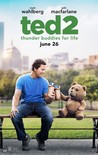 Ted 2 isn't cinematically special; the plot structure and shot framing is identical to MacFarlane's animated TV shows. But my god, is it funny. Trashy, nasty as it wants to be funny. Wake up the next day still giggling funny. Yes, that funny.

One man's mirth is another man's poison, this critic can only consult his belly as the barometer. On a gut level, Ted 2 is a funny film.

McFarlane's at his best when he breaks new ground.... Yet too many things get repeated from "Ted."

Maybe it's too early to say MacFarlane can't make a movie. He's still young, he's compulsively creative. He'll keep getting more chances. He could figure it out, but I don't think I want to watch him try.

Less fun than last time and oddly unpleasant in its tone. MacFarlane takes potshots at everyone he can find, while shielding the two characters that deserve it most.

Bad taste needs to be more honest and more all-inclusive if it's to make a lasting impression, and MacFarlane's bad taste here is both too wishy-washy and too knee-jerk cruel to really make any impact.

Ted 2 is the equivalent of a middle school bully. It's not as funny as it thinks it is. Its penchant for casual cruelty masks a hollow soul. And it will be totally forgotten once we move onto bigger and better things.
Critics, open your eyes. This movie is more hilarious than the first one. It had more funny moments and well, there were some emotional

Critics, open your eyes. This movie is more hilarious than the first one. It had more funny moments and well, there were some emotional moments. If you guys haven't seen it yet, you totally should see it. =)

…

Expand

It's not structured like most movies; it seems to have several climaxes and tapering off periods. But still a very enjoyable movie. Not sure

It's not structured like most movies; it seems to have several climaxes and tapering off periods. But still a very enjoyable movie. Not sure why critics were so hard on it. It's definitely the funniest movie I've seen this year. Better than the first one.

Not once did I find the pace too slow as others have said. Having a good pace doesn't mean that the whole movie should be a headlong rush. You need to sprinkle in some down time. And that's what they do.

Also, for once, the cameos in this movie were spot on!

…

Expand

If you a a generation X, nerd with a comic book / sci fi streak, your gonna appreciate some of the jokes more than others. It's not the best

If you a a generation X, nerd with a comic book / sci fi streak, your gonna appreciate some of the jokes more than others. It's not the best movie for pace and cinematic excellence, and the many of the critics have panned it for its lack of class.

But a big F.U. to the critics! If MacFarlane can make a sequel that is just as humorous as the original, make a load of cash and annoy the crap out of some snot nosed, holier-than-thou hollywood pen pushers then good on him.

If your girlfriend appreciates a good dick joke, take her along too.

…

Expand

While it's nowhere as unique as the first film, it still has its humorous moments and managed to keep a smile on my face for a majority of it.

While it's nowhere as unique as the first film, it still has its humorous moments and managed to keep a smile on my face for a majority of it. Mark Wahlberg and Seth MacFarlane once again make for a hilarious duo and are surprisingly able to come up with some fresh jokes and humor that doesn't grow too tiresome (at least for me it didn't.) Overall, if you're a fan of or simply enjoyed the first film, you'll likely enjoy this one as well.

…

Expand

Ted 2 is better than Ted 1. This movie uses more situational approaches to comedy and far less 1 liners than the prior. However it still

Ted 2 is better than Ted 1. This movie uses more situational approaches to comedy and far less 1 liners than the prior. However it still relies far too heavily on sex and drug jokes which makes it low brow at best. I still laughed, don't get me wrong, but you feel kinda bad laughing because it's just "wrong" I guess. Comedies in the past just didn't have to rely on those types of jokes for humor. The saving grace was, believe it or not, the story which had some funny aspects and was much better than the first. The movie though was too long at 2 hrs run time.

…

Expand

Ted 2 (2015) omg I had to come home and watch Ted part one just to do a comparison, Ted 2 is for sure as funny as part one; not a bad sequel.

Ted 2 (2015) omg I had to come home and watch Ted part one just to do a comparison, Ted 2 is for sure as funny as part one; not a bad sequel. Of course this movie is great for fans of Family Guy Ted (part 1), and of course anyone who is a fan of Seth MacFarlane. Now I have noticed many negative reviews on this movie, and honestly I'm not sure what they were expecting to see. If you liked part 1 then there isn't much to be let down or look up to. Yes this film and many within it's genre are for the fans and people who are followers of this style and yes I can see where loyal fans can be a bit saddened but there wasn't more to do with this movie but continue it the way it was done.

Ted 2 was funny for what it was and for it being the sequel it did compare to or held to be in similarity of quality and entertainment. It did seem that the scripting was a bit short versus part one though. Part one had more of a story from beginning to end, and Ted 2 seems to be more skit to skit, till about the middle of the movie when it picked up; still a fun film.

I personally liked Ted 2 the best.

…

Expand

Why do you people keep watching Macfarlane's junk. He used up all his jokes 10 years ago. He only had a handful to begin with, and now he

Why do you people keep watching Macfarlane's junk. He used up all his jokes 10 years ago. He only had a handful to begin with, and now he fills in the gaps with vague threats and gets away with anything by saying "I did it on purpose b-cuz I'm a genius." He only gets fans by over-powering / traumatizing the weak-willed. Fearful, self-denigrating people who need a parent-figure to tell them what to do and what to think, and to chastise them when they're naughty

…

Expand