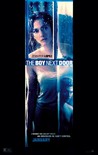 Director:

Rob Cohen

Genre(s):

Thriller

Rating:

R

Runtime:

91 min
Plenty of credit is due to Barbara Curry's deranged script, set in a suburban fantasyland of doofus bullies, junior proms, and middle-class sex fears; it probably isn't meant to be a Verhoeven satire, but it sure moves like one.

It will also make them laugh. Intentionally or not, director Rob Cohen ("Alex Cross") has put together the most hilarious camp classic since "White House Down" (2013).

Props to director Rob Cohen for making a gender-flipped 'Fatal Attraction'. But The Boy Next Door really should be a lot juicier.

The film's initial formulaic competence gives way to outright preposterousness rather quickly, hinging on idiot-plot character motivations.

It's a thriller, if the term can be applied to an inept, perfunctory movie with more laughs than thrills — and it only has a couple laughs. Let's call it an attempted thriller and an inadvertent comedy.

A limp psychosexual thriller that takes a promisingly trashy conceit... and does absolutely nothing with it, and saddles it with wooden performances, poor staging, and a complete lack of conviction. It reaches a nearly operatic level of ineptitude.
I read unfounded criticism, even and especially from critical specialists of film, and I'm laughing. It is above all the prejudices they have,

I read unfounded criticism, even and especially from critical specialists of film, and I'm laughing. It is above all the prejudices they have, rather than an intellectual reflection in several stages. I have to say that the films with small budgets are not the worst, they rely on the actors and the characters they have interpreted.
Jennifer Lopez has been for many (and for me) a good actress, especially playing at least naturally, and that is not afraid of "not wrong" to me it plays much better than some actresses "confirmed". It is amazing, I loved "U Turn," "The Cell," "Money Train", "Out of Sight," "Selena" and even "Parker" (the big mistake is the story), even his comedies romantic as "Maid In Manhattan", and I find that in "The Boy Next Door" is even better, it's really beautiful, the story is complete, and there is many intrigues.
I must say I do knew by Ryan Guzman and it is not bad at all, pretty good for being there for a few years. For other actors it is very convincing too, thank you Rob Cohen, very good director ! I hope this film will be successful.

…

Expand

This is the best movie ever made! If all the reviewers think it's trash, then it's obviously good! It's a great idea for a movie because

This is the best movie ever made! If all the reviewers think it's trash, then it's obviously good! It's a great idea for a movie because this stuff actually could happen, does happen, and it's awesome and real. It also flips gender roles so it should get Oscar consideration. And J.Lo is still relevant. I mean, come on.

…

Expand

I was surprised when I saw critic's reaction on this movie. It really isn't bad. Actually it is a fun movie to watch, and has many funny

I was surprised when I saw critic's reaction on this movie. It really isn't bad. Actually it is a fun movie to watch, and has many funny moments that made everyone in the room take some good laugh. Definitely going it see it again tomorrow.

…

Expand

I have been looking forward for this movie, especially that I love Jennifer Lopez. I consider it a good psycho thriller movie, but not that

I have been looking forward for this movie, especially that I love Jennifer Lopez. I consider it a good psycho thriller movie, but not that excellent.

Watch the movie here http://www.watchfree.to/watch-2a13cc-The-Boy-Next-Door-movie-online-free-putlocker.html

…

Expand

There is no doubt that parts of this film will thrill. Whether that's the story crafted by Barbara Curry or the direction from Rob Cohen. It's

There is no doubt that parts of this film will thrill. Whether that's the story crafted by Barbara Curry or the direction from Rob Cohen. It's not awards-caliber filmmaking, but it's not all bad here. And don't underestimate Jennifer Lopez.

…

Expand

But why is Ryan Guzman wearing so many clothes? We were expecting a lot more illicit affair, and a lot less thriller plotline. And that copy

But why is Ryan Guzman wearing so many clothes? We were expecting a lot more illicit affair, and a lot less thriller plotline. And that copy of the Illiad? http://bit.ly/1Jqa64d

…

Expand

There is no redeeming qualities in this movie it is complete garbage. All the performances are terrible, the script is terrible, and the

There is no redeeming qualities in this movie it is complete garbage. All the performances are terrible, the script is terrible, and the directing is terrible. Easily the worst film I've seen all year. F

…

Expand