Release Date:

Jun 19, 2009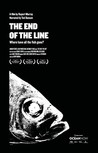 Summary:

The End of the Line examines the dangerous global consequences of the fishing industry. Is our love affair with sea food killing us?
Director:

Rupert Murray

Genre(s):

Documentary

Rating:

Unrated

Runtime:

85 min
The End of the Line's most topical hook is its exploration of bluefin tuna, which, as a sushi delicacy, is sometimes called the "most expensive meat on the planet."

Documents what threatens to become an irreversible decline in aquatic populations within 40 years.

A free-form splash of jaw-dropping graphs, impressively accredited talking heads, and sumptuously shot portraits of natural beauty and decay, overdramatically scored to symphonic and other intense musical attacks.

The movie does present solutions, including its urging of consumer demand for more accountability from restaurants and the building of marine reserves.

In 82 minutes, Murray wrangles enough data to make his point that biology can't keep up with sophisticated fishing technologies and worldwide demand; attacks high-end restaurants such as Nobu for putting endangered species on the menu; praises Alaska as a paragon of responsible fishing.

This movie wants to cover every base without thinking very deeply about them. So while a lot of ground is covered in 80 brisk minutes, the information presented is only abstractly useful.
The preservation of environment has to do with only one thing: preservation of environment. For the sake of the most vicious predator (human)

The preservation of environment has to do with only one thing: preservation of environment. For the sake of the most vicious predator (human) and his / her children. Same applies for preservation of any species: if human cannot control the environment and causes species to go extinct - then human must learn to preserve environment and endangered species, because human population is growing exponentially (without bounds) and nature with its animals is disappearing: there will be no place left for forest, nature, animals. No place left for Healthy Environment. CONSUMPTION is not "cool" anymore. Stop consuming and live in harmony with environment.

…

Expand

Sorry. Machine translation. The information is "Queen". Why? Because correct information allows men to exercise in a conscious way the right

Sorry. Machine translation. The information is "Queen". Why? Because correct information allows men to exercise in a conscious way the right to decide, to choose, not to bend to unknowingly cruel logic of multinational companies who have only one purpose, one goal: - Deciding what to do with eating. How many people know that canned tuna, in a certain spot of the globe, is just one piece of information? Do not know the origin of a product, that allows economic powers that product, exploiting, to the beautiful and the weather. What does it mean to quotas? Means adjusting to quotas. Contingent the fishery, therefore, means adjusted. Regular basis to prevent the indiscriminate exploitation of a product, in our case, the bluefin tuna. Imagine, millions and millions of tonnes of tuna a day, 365 days a year undergo the freezing or other treatment. How many times around the equator? Or should not give this species the chance to reproduce? Because our lives must always be marked by the wickedness of the choices of others? A consumer awareness arises from a correct information. And yet, really think that the production of tuna is still in craft shows as some publicity? Wrong. We spend billions of euro in sophisticated technological systems to catch tuna. The tuna can hardly defend itself by human technology. I like indiscriminate. Companies have a duty to restrict the indiscriminate capture of this product that definitely has become a raw material for fine palates. F as Fleet. Billion euro of revenue, but think about it, dedicated fleets to catch tuna. As R Research. What care to large multinational finance research for environmental protection? And if that happens, we are sure that the data are correct? It seems, to see the documentary, which the fish is an inexhaustible mine. It does not. S as the train. Bottom trawling is harmful to the environment. But why? Because with bottom trawls can not select what you catch. The network end of everything. Dolphins, sharks, killer whales and other great quality and quantity of fish that have died, are discarded. A net trawling, has an opening that allows the simultaneous entry of several aircraft such as Boeing 747. A real massacre. P as in developing countries. E 'is the place where sustainable fishing can demonstrate its value as a tool for economic revival and not as an additional supply of labor at low cost. And as Europe. Europe is funding the purchase of ships by millions of Euros? Yes S as Sushi. The man and the tuna sushi. Main accused of defeat and the subsequent battle for fish protection of fish. The documentary, shown in world premiere at the Sundance Film Festival, World Cinema Documentary Competition, Utah, January 15-25, 2009, and this evening revived thanks to the drafting of MyMovies, gave us the ability to imagine our oceans without fish. A food chain inevitably broken. At this point, it is essential to the realization of the global population. Stopping to ragionale, develop new ideas, run for cover. The documentary took two years of work, The End of the Line by Charles Clover part of the investigation, reporter for the London newspaper Daily Telegraph. Clover is also the author of the homonymous book. For scientists, then the forecasts are not rosy. By the end of 2048 if it continues the indiscriminate fishing, the sea will not give nothing but seaweed and jellyfish and worms and stuff suck. We want all this? Certainly not. And then there are two roads to take. The first, as I said, that of responsible consumption as a result of an information manager, the ultimate goal must be to have an educated consumer globally. The second, a series of political decisions worldwide, aimed at solving a problem that is not of this or that country. The End of the Line is an independent film, financed by: The Waitt Family Foundation, Marv, Oak Foundation, Channel 4 BRITDOC Foundation, WWF, Weston Foundation, The Clore Foundation, The Marine Conservation Society, AD Charitable Trust, GD Charitable Trust Waterloo Foundation and Oceana. Rupert Murray, director, directed and edited Unknown White Male in 2005, receiving two nominations for the awards at the Directors Guild of America Awards, British Independent Film Awards and Grierson Award. The film tells the story of the struggle of a man who eet against amnesia. Charles Clover, author of "The End of the Line." Journalist and author, writes weekly for The Sunday Times on environmental issues. He has also worked at the London office of The Daily Telegraph, "from 1988-2008, he created the site and Telegraph Earth is the coordinator of a small team of talented journalists. Election of the year by the UK national press and Media Awards for three times, in 1989, 1994 and 1996. Co-author with Prince Charles of a study on sustainable agriculture. His book "The End of the Line" was defined as the top book on overfishing.

Good click!

…

Expand