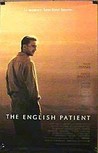 Director:

Anthony Minghella

Genre(s):

Drama, Romance, War

Rating:

R

Runtime:

162 min
A mesmerizing film that is the most stunning, tempestuous love story in a decade or two of movie making.

The kind of movie you can see twice--first for the questions, the second time for the answers.

The two films bursting out of The English Patient (a chamber piece and a David Lean dune epic) require a juggling of tone, pace and scale that might easily defeat a director more seasoned than Minghella.

Kristin Scott Thomas is the film's revelation. She takes center stage as a smart, fearless woman who's utterly irresistible.
Great film! Real emotions, real life! Heroes were on the top! Music brilliantly selected!

Really, reviewers? Can't you identify a great film when you've watched it? 'The English Patient' won 9 Oscar and everyone (or at least 7 of th

em) are merited. The screen adaption of this criticly praised book (I haven't read) is very good directed, has a simply fantastic score, magnificient cinematography and highly talented actors. I admit that it could've been shorter and the love story gets too kitschy partly, however it's the best movie of 1996 and totally touching!

…

Expand