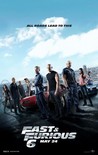 Starring:

Dwayne Johnson

,

Michelle Rodriguez

,

Paul Walker

,

Vin Diesel

Summary:

Hobbs (Dwayne Johnson) asks Dom (Vin Diesel) and Brian (Paul Walker) to help him take down an organization of lethally skilled mercenary drivers. In return, their crew will receive full pardons and be allowed to return home.
Director:

Justin Lin

Genre(s):

Action

,

Adventure

,

Thriller

,

Crime

Rating:

PG-13

Runtime:

130 min
Please enter your birth date to continue:
You are not allowed to view this material at this time.
Against all odds, the billion-dollar "Fast & Furious" franchise is actually picking up momentum, with "FF6" clocking in as the fastest, funniest and most outlandish chapter yet.

This is a franchise entirely comfortable with what it is, what it's not, and what it has to offer. It has a whole mess of "Fast" for us all, and woe be the souls who enter this film hoping to go slow.

"Fast Five" and Fast & Furious 6 -- the newest, nearly-as-much-dumb-fun sequel -- play more like "The Avengers" than they don't.

Like its predecessors, doesn't need CGI, 3-D glasses or even praise from film critics. It just needs to please its audience with amped-up, old-school thrills that make its target demo whoop and holler with every zoom, smash and ka-BOOM. Consider this review a declaration that it does just that.

None of it makes any sense, except within the high-octane logic of blowing stuff up onscreen. And, in case you're wondering, sometimes that can be entertainment enough: Slack-jawed euphoria shoots like nitro through the film. (Please be careful in the parking lot afterward.)

While there's a lot of fun to be had, Furious 6 doesn't quite hit the insane heights of "Fast Five," but we're sure it'll delight franchise fans who mostly want to see bald people butt heads, and moving vehicles crash into other moving vehicles.

Justin Lin strives to approximate something like Ocean's Eleven for petrosexuals, but testosterone outweighs wit and cleverness at every turn in Chris Morgan's starched script.
Its worth watching movie.
It is the evolution of director Justin Lin.
This will not destroy your expectation for sure. Rock just RockedIts worth watching movie.
It is the evolution of director Justin Lin.
This will not destroy your expectation for sure.
Rock just Rocked
Should not compare the movie with Fast Five
The climax will blow your mind.
This movie explains how family bondings matter Dom.
I think this was just the beginning of something big to come.

Anybody who watch this one is gonna watch "Fast & Furious 7" for sure
Waiting for the next mass movie .

The Wait is gonna last for 412 days more.
Expecting a bigger one.

…

Expand

This review contains spoilers, click expand to view.

fast & furious 6 is amazing,its even batter from fast five. the movie is funny and awsome.the story explaine itself very good.and the ending was the best part of the movie.there is a glimpse in the end of the film of fast & furious 7 and thats was cool that they showed who the villian of fast & furious 7 will be.owww and also the actors did a very good job.the villian was convinsing and there was a lot of action.this movie deserve a 10/10 but i am a little afraid that they will screw up in fast & furious 7 becuase they are making the film in only 1 year and 2 months.thats not a lot of time to make a movie.but see this movie i gurntee you will enjoy it.

…

Expand

any franchise in its sixth film usually gets boring and you see the same old thing, not with this.

This film is the sixth in the fast andany franchise in its sixth film usually gets boring and you see the same old thing, not with this.

This film is the sixth in the fast and furious franchise, fast and furious began with street racing and lunatics with cars,it is still true to its roots but as the franchise went on something needed to change and the direction they have gone in is done so well, i must say i wasn't expecting much but it gave a very engaging story, brilliant action and street races (can't be a fast and furious film without it can it!), everybody acts their part, appearances from the Rock and Vin Diesel are not there just to show off their muscles, everybody acts well and i did not want to leave my seat for one second.

But no film is perfect, i felt some characters deaths were not needed and one scene in particular where the crew are chasing a plane down an airfield, the airfield seemed to never end and was a bit ridiculous.

But honestly i would recommend this film to anybody, you do not need to see fast and furious 5 (i did not) to understand it refers back to it in certain parts so you understand why certain things happen.

Great film go see

…

Expand

"Fast 6" provides exactly what we've learned to expect from this series. A fast paced, action packed story of vehicular madness. While 6

"Fast 6" provides exactly what we've learned to expect from this series. A fast paced, action packed story of vehicular madness. While 6 doesn't impress as much as 5, it still delivers all of the elements that F&F taught us to love. #seeit

…

Expand

"The script is dull and lifeless, but the action, the stunts and more importantly the cars are stupendous. It impresses me so much that after

"The script is dull and lifeless, but the action, the stunts and more importantly the cars are stupendous. It impresses me so much that after so long the Fast and Furious films never cease to amaze me. Another successful entry in the long-run franchise." B+

…

Expand

Solid and helps the franchise run into fast situation, but fails to entertain me by, once again, the fast cars and the furious humans. Fans

Solid and helps the franchise run into fast situation, but fails to entertain me by, once again, the fast cars and the furious humans. Fans will enjoy this more than average moviegoers like me.

…

Expand

The very definition of a chavvy film. There are so many plot holes right from the beginning - nothing is explained! We're not told who any of

The very definition of a chavvy film. There are so many plot holes right from the beginning - nothing is explained! We're not told who any of the characters are, they have little to no development, and the action scenes lack quality and originality. They're just mindless and dumb. The cars are just chavved up American muscle with fake sounds. There's just so much wrong with this film it's hard to get it across in a review, it's ridiculous right from the start - even for an action film. I mean, a car chase through London is impossible at anything above 10 mph, the whole story is disjointed. Nobody's motive is explained thoroughly, nor is there any sophistication in the action and chases. I can't think of how this film could be worse!

…

Expand