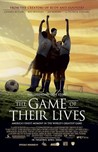 Starring:

Gavin Rossdale

,

Gerard Butler

,

Wes Bentley

Summary:

From the creators of Rudy and Hoosiers, based on a true story, The Game of Their Lives follows the US National Soccer Team, which shows that with passion and commitment, anything is possible – even the greatest upset in the history of the World Cup. (IFC Films)
Director:

David Anspaugh

Genre(s):

Drama

,

History

,

Sport

Rating:

PG

Runtime:

101 min
What the cast members lack in sharpened skill they more than make up for in raw gusto and athletic scrappiness (most of the actors have logged a lot of soccer in their pasts). These guys give a sport that is virtually nameless in the movies a good name in this one.

Unlike some other soccer movies, there's no fancy editing -- excitement is generated strictly by the actual choreography and the commentary of an English announcer.

Coaching from the same playbook with which they made "Rudy" and "Hoosiers," director David Anspaugh and screenwriter Angelo Pizzo create a reverent fable.

By the time of the fabled match -- which you could swear lasts a full 90 minutes -- it's all you can do to keep your skin from crawling off your body and slinking to the safety of another room. Do yourself a favor: Follow it.

The Game of Their Lives has a great sports story to tell, yet the filmmakers fumble it away.

It is flat-footed, uninspired and disjointed from start to finish, a glaring disservice to the men who played the game.
Good intentions that missed the mark on many levels. I wanted to like it and drove for over an hour to see it.