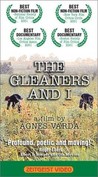 Starring:

Agnès Varda

,

François Wertheimer

Summary:

An intimate, picaresque inquiry into French life, as lived by the country's poor and its provident, as well as by the film's own director, Agnès Varda. The aesthetic, political and finally moral point of departure for Varda are gleaners, those individuals who pick at already-reaped fields

An intimate, picaresque inquiry into French life, as lived by the country's poor and its provident, as well as by the film's own director, Agnès Varda. The aesthetic, political and finally moral point of departure for Varda are gleaners, those individuals who pick at already-reaped fields for the odd potato, the leftover turnip, and in previous generations were immortalized by the likes of Millet and Van Gogh. (Zeitgeist Films)

…

Expand
Director:

Agnès Varda

Genre(s):

Documentary

Runtime:

82 min
Please enter your birth date to continue:
You are not allowed to view this material at this time.
A fascinating nonfiction voyage into rural and urban France, focusing on idiosyncratic individuals who live off things the rest of us throw away, from food to furniture.

Of all the movies I've seen in the past several years, this is one of the ones I love the most.

She (Varda) plucks images and stories from the world around her, finding beauty and nourishment in lives and activities the world prefers to ignore.

A delicacy for mature filmgoers who are able to derive as much pleasure from a perfectly, sympathetically crafted essay as from a well-spun yarn.

Captivating new documentary, The Gleaners and I, is charged with the pleasure of discovery.

Varda injects her sprightly personality into the film, a seasoning that sometimes overwhelms the stew.