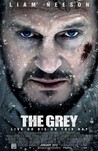 Starring:

Dermot Mulroney

,

Frank Grillo

,

Liam Neeson

Summary:

In The Grey, Liam Neeson leads an unruly group of oil-rig roughnecks when their plane crashes into the remote Alaskan wilderness. Battling mortal injuries and merciless weather, the survivors have only a few days to escape the icy elements – and a vicious pack of rogue wolves on the hunt –

In The Grey, Liam Neeson leads an unruly group of oil-rig roughnecks when their plane crashes into the remote Alaskan wilderness. Battling mortal injuries and merciless weather, the survivors have only a few days to escape the icy elements – and a vicious pack of rogue wolves on the hunt – before their time runs out. (Open Road Films)

…

Expand
Director:

Joe Carnahan

Genre(s):

Action

,

Adventure

,

Drama

,

Thriller

Rating:

R

Runtime:

117 min
Please enter your birth date to continue:
You are not allowed to view this material at this time.
It's a fine, tough little movie, technically assured and brutally efficient, with a simple story that ventures into some profound existential territory without making a big fuss about it.

What is surprising is how poetic the movie is, partly thanks to its high-lonesome sound design and the desolate beauty of its visuals, but mostly because of its star, Liam Neeson.

There's an almost poetic quality to the way things develop, with characters becoming increasingly introspective.

Don't be mistaken -- this isn't an artsy thriller. It is still, at heart, men vs. wolves, and the wolves definitely have the home-court advantage.

The Grey, whose clipped title, grim swagger, and lost-in-the-outback themes conjure up visions of that Alec Baldwin/Anthony Hopkins classic, "The Edge," devolves into a predictable man-against-nature, and man-against-fellow man, affair.

You see the pattern here? Winter-release slot + travel budget + Liam Neeson = slightly preposterous, routinely violent, apparently lucrative action movie in which the Irish-born star signals inner emotional conflict with his handsomely mashed boxer's face while settling outer physical conflict with his boxer's fists.

Neeson is always compelling, even in a movie as ridiculous as The Grey.
Closer examination of this movie seems to indicate that it is an analogy. It is really about man facing his God and his fear of death in a

Closer examination of this movie seems to indicate that it is an analogy. It is really about man facing his God and his fear of death in a dignified fashion...which is what Liam Nesson does. As proof I offer the 4 line poem the main character's father wrote and posted on his wall. It is repeated several times so you can't miss it...you're not supposed to. It is the last thing Liam Neeson's character thinks of before....well you know. The message is quite clear. Live to fight another day, die with honor, strength, bravery and above all dignity. I think the movie was beautifully done and superbly acted.

…

Expand

It's hard to say something bad about this movie - so well done. From the actors, to the stunt work, it all came together so well. The plot was

It's hard to say something bad about this movie - so well done. From the actors, to the stunt work, it all came together so well. The plot was very well paced and had a great twist. As long as you are wanting a happy ending, this is a must see!

…

Expand

Much better than average. This movie is too good for anyone who gives it a low score. Get a clue of what real story, real character is about.

Much better than average. This movie is too good for anyone who gives it a low score. Get a clue of what real story, real character is about. If the wolves aren't realistic there's a reason for that, which makes everything more haunting, more freakish, more alive than in a straight action movie.

I thought Joe Carnahan was onto something when NARC came out, and this reinforces that feeling. He may be a bit full of himself and on the macho side but he's got a movie to be proud of. This is the best Neeson movie since Schindler's List.

…

Expand

A lot of potential to be better, but a solid movie overall. Great Performance by Liam Neeson. The plot & dramatic scenes definitely pull at

A lot of potential to be better, but a solid movie overall. Great Performance by Liam Neeson. The plot & dramatic scenes definitely pull at the heart. My only criticism was the movie did seem to drag on a little longer and the unnatural feeling of the wolves, took away from how good this movie could have been.

…

Expand

Personally, I did not really notice nor care for what I did notice when it came to the "philosophical" element of this one. Truth be told, it

Personally, I did not really notice nor care for what I did notice when it came to the "philosophical" element of this one. Truth be told, it felt like they were reaching to try and make what is a pretty typical survival drama hit home and be more profound than it truly is. Any claims to the contrary can be supported because, well, it's a survival drama. I see some reviews commenting on how this one is a study of the will to live, which to me is nonsense and is not a topic that needs to be discussed in film, if this is truly what this film is going for. No duh people want to survive, there is nothing profound to be in that topic. Hell, *SPOILER* one guy just gives up. How is that evident of the will to live? *END SPOILER* Ultimately, Liam Neeson and the rest of the cast are quite strong, the film is well shot, and well told. Throughout, it is very compelling and is a very good survival film. Sadly, the forced in "profound" moments that are anything but that try to hint at the film being more symbolic than it really is, do ruin the movie to an extent. Luckily, the film's intensity and well developed characters make up for it.

…

Expand

Extremely disappointed with this movie. Very few times do I feel the urge to write a review. There were a lot of inconsistencies with the

Extremely disappointed with this movie. Very few times do I feel the urge to write a review. There were a lot of inconsistencies with the plot. Jumping into a tree? COME ON! A lot of build up in this movie to a weak ending. I was deceived into thinking this was "Taken" with wolves. I didn't relate with any of the characters in the movie and was glad as the wolves picked them off one by one. Also I find it hard to believe that a band of rednecks couldn't find any weapons or defend themselves. Even Sarah Palin kills wolves. A movie like this does not make me shed a tear about wolf conservation. A classic survival film with a satisfying ending would be, " The Edge". Anthony Hopkins and Alec Baldwin survive and KILL A GRIZZLY! Come on Neeson! The Grey made me want to chokeslam a wolf, but then I thought about how humans bred the wolf to make the chihuahua breed and that made me smile.

…

Expand