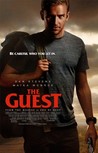 Starring:

Dan Stevens

,

Joel Moore

,

Leland Orser

,

Maika Monroe

,

Sheila Kelley

Summary:

A soldier (Dan Stevens) introduces himself to the Peterson family, claiming to be a friend of their son who died in action. After the young man is welcomed into their home, a series of accidental deaths seem to be connected to his presence.
Director:

Adam Wingard

Genre(s):

Action

,

Mystery

,

Thriller

Rating:

R

Runtime:

99 min
A transcendent comic chiller, when The Guest's characters are in peril we actually care, and Wingard respectfully makes the kills clean and quick.

The filmmakers don't bother hammering home a backstory or explaining why David is crazy. They just throw us in the deep end and dazzle us with a series of violent encounters that ends with a deadly chase in a surreal fun house maze of mirrors.

The Guest isn't here to deliver an earnest social message about the state of veterans' affairs. Instead, the way good horror movies do, it channels our collective fear, guilt, and rage by creating a monster.

David's perversity as a character is mostly disarming for how it illuminates the sadness with which a foe can so readily be confused for a savior.

It's hellish good fun. Stevens is mesmerizing as the avenger, helping director Adam Wingard turn The Guest into a blast of wicked mirth and malice.

Until it becomes completely demented, The Guest is a perfectly respectable thriller, and even when it stops being respectable — even when it goes off the rails and becomes ridiculous — it's still entertaining.
OK, so I just randomly stumbled upon this gem on a list of films that was not shown on the big screen this year in my country. And man, was I

OK, so I just randomly stumbled upon this gem on a list of films that was not shown on the big screen this year in my country. And man, was I in for a surprise. I mean, this is truly one of the best movies that I have ever seen, and one that I will tell all my friends to watch. The tension and the unique atmosphere it builds is truly remarkable, the lead actor who I never even heard of before gave an astonishing performance. And don't even get me started on the soundtrack. Great movie, don't miss it!

…

Expand

The Guest is a fast, fun, action packed thriller and the final act is one of the best in recent years. Stylish, slick, well-acted, and

The Guest is a fast, fun, action packed thriller and the final act is one of the best in recent years. Stylish, slick, well-acted, and well-shot, you can tell that the filmmakers put a lot of heart into it.

…

Expand

Adam Wingard can really do no wrong, in my book. He takes these worn-out genres and looks at them with fresh eyes. I loved everything about

Adam Wingard can really do no wrong, in my book. He takes these worn-out genres and looks at them with fresh eyes. I loved everything about You're Next, but that felt like a bigger, more mainstream movie. This one reminded me of The Hitcher, but weirder, more marginalized. Great lead acting, amazing score, and such a playful, fun tone to it that you don't get bogged down in the extreme violence. Highly recommended at the end of a tough summer for mainstream flicks.

…

Expand

surprisingly entertaining move. A throwback to 90s movies done very effectively. From the sound effects, to music, to be B plot. Reminds me

surprisingly entertaining move. A throwback to 90s movies done very effectively. From the sound effects, to music, to be B plot. Reminds me of Cold July, also an underrated movie.

…

Expand

Ummmm.... I don't quite know what to say about this movie. First of all, the soundtrack is absolutely awesome. It's a shame that the

Ummmm.... I don't quite know what to say about this movie. First of all, the soundtrack is absolutely awesome. It's a shame that the soundtrack doesn't fit the mood of the film in the slightest. The movie has no 80's flair to it at all.

Also, the story completely derails in the second half. I lost track of it when they started into the whole super-soldier thing.

I did love the haunted house set-piece though. Definitely the standout moment of the film.

…

Expand

So much fun!

Issues with editing and a feeling that some bits are missing mean this isn't a perfect telling of this story but it is a good,So much fun!

Issues with editing and a feeling that some bits are missing mean this isn't a perfect telling of this story but it is a good, violent, and funny tale.

You will like.

…

Expand

Unwatchable. Succeeds neither as horror nor as camp. I don't know how on earth this movie ended up with a 76 on Metacritic, but then again

Unwatchable. Succeeds neither as horror nor as camp. I don't know how on earth this movie ended up with a 76 on Metacritic, but then again we're the species that invented global warming, too.

…

Expand