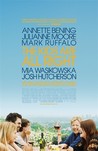 Director:

Lisa Cholodenko

Genre(s):

Drama

,

Comedy

Rating:

R

Runtime:

106 min
"All right" doesn't begin to describe it. The Kids Are All Right is wonderful. Here is a film that respects and enjoys all of its characters, the give-and-take and recklessness and wisdom of any functioning family unit, conventional or un-.

This warm, funny, sexy, smart movie erases the boundaries between specialized ''gay content'' and universal ''family content'' with such sneaky authority.

Moore and Bening are superb actors here, evoking a marriage of more than 20 years, and all of its shadings and secrets, idealism and compromise.

Positioned somewhere between sitcom and piercing human drama, The Kids Are All Right, is both overtly familiar and cutting edge.

Some people might blindly and inaccurately accuse this movie of attacking family values, but it has exactly the opposite effect. Touching and funny in their upheaval, the people in The Kids Are All Right open the door to a brand new examination of family values that leaves you charged and cheering.

There are not only glancing moments but whole sequences in this movie when the agony of social embarrassment makes you want to haul the characters to their feet and slap them in the chops.
This has to be one of the most fun films in a long time. The movies plot is ever so simple; where two kids meet their sperm donor. Things seem

This has to be one of the most fun films in a long time. The movies plot is ever so simple; where two kids meet their sperm donor. Things seem to be okay at first, but it just seems that donating sperm probably wasn't the right choice. He develops a deep relationship amongst the family and tension soon runs high. The way that the movie is told is so plain, where dialogue and the variety of characters takes over and turns the movie into a lighthearted and touching story that is a rarity in hollywood. The movie is sexy, funny, and just pure entertainment with a good story. You'll be able to sit down and really know the characters one by one without becoming so tense on what happens next. Just sit down, relax, and enjoy the show.

…

Expand

This film is a emotional and heartfelt rendition of your "average" American family. Filled with real, believable performances and an

This film is a emotional and heartfelt rendition of your "average" American family. Filled with real, believable performances and an excellently written script. 4/4 stars.

…

Expand

Full of originality. There is plenty of wit, cleverness and comedy to go around. All while dissecting a contemporary issue amidst a modern love story.

I found this movie good, but a bit overrated for all the hype it's recieved. I am a fan of everyone in it, it was well acted, it flowed great

I found this movie good, but a bit overrated for all the hype it's recieved. I am a fan of everyone in it, it was well acted, it flowed great and was easy to watch. I guess I just didn't think it was soooo good, the kind of good that you want other people to see it and you want to own it to watch again and again. Some of it wasn't believable and I felt some things that were introduced never had follow up by the end. Maybe these things were not supposed to be left all cleaned up, but regardless, I will say it's still worth watching but maybe not something one needs to buy for repeated viewings.

…

Expand

Very enjoyable movie. The only downside is one of the characters , whilst funny and a joy to watch, ends up ruining the respect of the

Very enjoyable movie. The only downside is one of the characters , whilst funny and a joy to watch, ends up ruining the respect of the audience which in turn drags the film to a more sober level. It turns the movie into a more serious event devoid of the humorous aspects of the first half.

…

Expand

The Kids Are All Right has a fairly simple plot. A lesbian couple have 2 children. The two children meet there sperm donor. Easy, right? Yup,

The Kids Are All Right has a fairly simple plot. A lesbian couple have 2 children. The two children meet there sperm donor. Easy, right? Yup, it is. The Kids Are All Right is one of the finest dramedies that I have ever seen. The acting form the cast is spectacular, riveting, and memorable. The way the film makes one character seem like the bad guy or good guy in the film, suddenly changing them to good guys or bad guys, is fascinating. The supporing actors in this films were the very best. Nothing can beat the laughs they brought ot the film or the drama they did as well. The sublte humor was amazing, for it is what I liked the most in the film. The obvious humor was also hillarious, but not as good as the subtle. They also made very crude sexual jokes most of the time, which I personally enjoyed the least. But on the comedy side of the film, it deserves excellent marks. Next, on the drama side, this film is just full of it. Tense, exciting, relationships, all that a drama needs. At one point, a lesbian couple is cheating on her wife, and when you notice its kinda strange that a lesbian is cheating on her wife with a MAN, you might think its comedy. But not at all. It's very true drama if it happened in real life, because it doesnt happen very often. The fast paced drama, although there wasn't much, was good. When the characters are in arguments, you notice the tension in the room, and you cant help but root for one character oover another. Lisa Cholodenko knows how to add drama factor, to the lauch factor. I aslo have to give alot of credit to the amazing acting. Annete Benning, Julianne Moore, Mia Wasikowski, Josh Hutcherson, and Mark Ruffalo all starred in this film. And they made the film a star. The ensemble cast are all perfect with each other. The casting director, who ever he/she might be, should be given an Oscar. They all seemed to love each other like family in real life, just the same way they did in the film. You could literally feel passion coming out of the screen from each individual, as if you were part of the family, too. The acting nominations for Annete Benning and Mark Ruffalo were truly deserved. In the beggining, you thought Benning's character was going to be the villian in the story, and you also thoguth that Mark's character would be the good guy. But as the story continued on, you realized everything was not as it seemed. I personally thought Mark Ruffalo was the best actor out of all of them. He brougth so much joy and despair to every one of the characters, and you think about how he did it, but you really cant figure it out. I had mixed feelings about his character in the end, unlike any of the other characters. As you watch the film, you really have sympathy toward his character more than anyone else, and that's what made him stand out the most. So, the acting was great. But then comes the negatives. Lets narrow it down to four. (1) The crude sexual jokes. I shouldnt have expected less from a rated R film, but if you make a dramedy and most of the laughs come from sex jokes, then I would call it more of a perv dilm than anything else (but gladly most of the laughs weren't perverted).(2) The score. It was so boring and dull and was repeated so many times. Only a few times did the score fit a scene. I hope to never listen to it again. (3) Not a film to see again. Maybe one day if their were 50 films at Blockbuster, and this one was the best, then I would watch it again, otherwise the film was memorable, but I wouln't really watch it again any time soon. (4) Last but not least, the slow moving pace. At times (as I've said previouslly), the fim was fast, but sometimes it REALLY lagged. You'd see there expressions and be so bored that you might turn off the film, but then a sudden burst of comedy or dram saves you, and your back in. And that's really all the negatives in the film. Other than that, the film was excellent. The film also had a recurring message. No matter how hard you try, you can never lose family, and they will never lose you. Check back at my page for a new review every week. Thanks and enjoy the film.

…

Expand

The kids are not all right. This film is so pretentious it comes off as smug and arrogant. It reveals nothing new about so-called 'lesbian'

The kids are not all right. This film is so pretentious it comes off as smug and arrogant. It reveals nothing new about so-called 'lesbian' relationships, something that doesn't strike me as important, while creating unlikable characters who aren't worth ten minutes of any screen time whatsoever. The most sympathetic character was the straight middle aged hipster, and I felt he was annoying. It's a film without any style or freshness, so to speak. I could barely finish it.

…

Expand