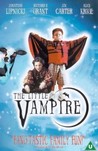 Starring:

Jonathan Lipnicki

,

Richard E. Grant

,

Rollo Weeks

Summary:

An American boy (Lipnicki), who has just moved to a remote corner of Scotland, meets a friend that turns out to be a vampire. The two boys begin an adventure to find a magic pendant that will save the other vampires from a life of eternal darkness.
Director:

Uli Edel

Genre(s):

Adventure

,

Fantasy

,

Horror

,

Comedy

,

Family

Rating:

PG

Runtime:

95 min
Not often does a family film come along that is literate, clever, mischievous and just plain fun.

Watchable family films are so rare these days that we shouldn't put a stake through one with so much heart.

A generally likeable cast atones for the underwritten script with fine comic spirit.

Some things just don't translate . . . not with Lipnicki attached, at any rate. Stick with the books.