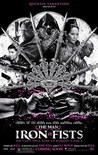 Starring:

Cung Le

,

Lucy Liu

,

Russell Crowe

,

The RZA

Summary:

Since his arrival in China's Jungle Village, the town's blacksmith has been forced by radical tribal factions to create elaborate tools of destruction. When the clans' brewing war boils over, the stranger channels an ancient energy to transform himself into a human weapon. As he fights

Since his arrival in China's Jungle Village, the town's blacksmith has been forced by radical tribal factions to create elaborate tools of destruction. When the clans' brewing war boils over, the stranger channels an ancient energy to transform himself into a human weapon. As he fights alongside iconic heroes and against soulless villains, one man must harness this power to become savior of his adopted people. Blending astonishing martial-arts sequences from some of the masters of this world with the signature vision he brings as the leader of the Wu-Tang Clan and as one of hip-hop's most dominant figures of the past two decades, RZA embarks upon his most ambitious, stylized and thrilling project to date. (Universal Pictures)

…

Expand
Director:

The RZA

Genre(s):

Action

Rating:

R

Runtime:

95 min
Please enter your birth date to continue:
You are not allowed to view this material at this time.
The Man With The Iron Fists has the same advantages of many musical debuts. It's the product of a man who has been storing up ideas, setpieces, characters, and gags for a lifetime, in preparation for the magic moment when he'd be able to unleash his full vision on the big screen.

It's all sufficiently well done and amusing enough to satisfy the appetites of fans who mainline this sort of thing, but it also sports a concocted, second-hand feel common to this sort of throwback homage.

A wildly whirling martial arts spectacle with an endless array of exotic knives, a penchant for Zen philosophizing and an unquenchable thirst for blood. It may just be one of the best bad movies ever.

As endearing as it is exhausting, The Man With the Iron Fists bears strong resemblance to a hyperactive puppy: sloppy, scatterbrained, manic and migraine-inducing, but possessing an earnest sense of excitement.

Let the brilliant, epic silliness of The Man With the Iron Fists engulf you in a tsunami of crimson cheese and you, like I, will have a super-happy-fun-big-smile-crazy-face-monkey-time.

Both the martial arts and the slightly dull narrative patchwork are too choppily edited to gain much of a foothold.
Kill Bill action. That's Ll you need to know. It's not for the story or anything, just awesome kill bill action. What else do you need to

Kill Bill action. That's Ll you need to know. It's not for the story or anything, just awesome kill bill action. What else do you need to know? If you love cheesey blood, gore, and action, this is the movie for you and it won't disappoint.

…

Expand

The fight scenes are insane and well choreographed, the blood and gore are astounding and it has an amazing soundtrack featuring music from

The fight scenes are insane and well choreographed, the blood and gore are astounding and it has an amazing soundtrack featuring music from artists like Wu-Tang Clan and Kanye West but some thing's missing. Oh yeah, the story and plot make no sense. Also, the editing was a little too rubbish. See it though, even if just for the action scenes.

…

Expand

From the opening scene, The Man with the Iron Fists feels at once familiar, and strange. It has the ridiculous hair of the eighties, various

From the opening scene, The Man with the Iron Fists feels at once familiar, and strange. It has the ridiculous hair of the eighties, various fighting styles that defy logic, and a soundtrack to match, but TMIF strikes a fine balance of genre's that somehow works. A rare specimen, TMIF may not be for everyone, but it's destined to become a cult classic, at the very least!

P.S. No "Kill Bill" reference needed

…

Expand

It is not a bad movie altough it has to many CGI Effects and the gore elements are to excessively but it still knows how to entertain you.

I have occasionally enjoyed this wave of grindhouse pictures, like--"Planet Terror" and "Hobo with a Shotgun." But a lot of them have been

I have occasionally enjoyed this wave of grindhouse pictures, like--"Planet Terror" and "Hobo with a Shotgun." But a lot of them have been disappointments. I'm talking about the boring and overwritten "Death Proof" and the oh-so-irreverent "Machete." "The Man with the Iron Fists"--Wu-Tang Clan member RZA's first shot behind the camera, is an exercise in visual and structural ineptitude. The RZA, starring alongside an obese Russell Crowe, in this rather poor grindhouse homage to old Kung Fu movies, narrates the simplistic story of a black blacksmith (RZA) who must protect his village from a deadly band of assassins. Not even a halfway decent final battle sequence, (if you can make it that far), can compensate the insurmountable problems that makes this so laborious to watch. Truthfully, I wanted to enjoy the movie for what it is--an over-top-bloody, action sequence extravaganza--but couldn't. The movie tries to maintain a edginess throughout---graphic fight scenes, blood spatter, etc. but falls short. Levels of debauchery that are simply unpleasant at times (including a disturbingly obese Russell Crowe ripping anal beads from out a prostitute in a bath tub) for example. The last half of the film takes place inside the brothel, and there is not a single shred of female nudity in the film. The film was entirely filmed in China, and whose original duration exceeded four hours. The RZA suggested dividing the work into two films, however, and not surprisingly, his proposal did not receive any support, thus forced to reduce its length to just over an hour and a half. Therefore, when you remove 145 minutes of a 240 minute film, the first thing that suffers is the story itself. What's left of the story is a mess and no real sense of direction. Characters are in and out of the story line so quickly, the audience doesn't have a chance to be clear on their motivations and alignments.The martial arts sequences consist of a saturation of close-ups cables, and computer generated effects, that denies the viewer the chance to appreciate the exchange of martial techniques. Considering the background and motivations of the director--and his talented cast--such a waste of unused talent is incomprehensible.
The RZA's directorial debut is not terrible--and yes that's a compliment. For a grindhouse homage it's rather boring at times-- and the scant 95-minute running time seems painfully long. Further evidence that supports the fact that grindhouse trailers are almost always more entertaining than the movies themselves.

…

Expand

I like QT, RZA, Kill Bill Etc... but this movie was HORRIBLE. I literally walked out after wasting an hour... my popcorn was the best part.

I like QT, RZA, Kill Bill Etc... but this movie was HORRIBLE. I literally walked out after wasting an hour... my popcorn was the best part. The movie had a great trailer... fooled again!

…

Expand

Chinese made poor quality sold out American brand actors movie. Horrible sound track from beginning to end. Very cheaply made movie .The

Chinese made poor quality sold out American brand actors movie. Horrible sound track from beginning to end. Very cheaply made movie .The highest expense would have been the money paid to the couple of main actors . Chinese trying to sell movies like their products . They just want floating population and initial days to make the money out . It is a shame for the Hollywood(universal studios) . It is cheating the movie viewers.These kind of cheap movie will reduce the regular movie viewers. I really wanted to get out of the theater after few minutes . I have never seen any movie like this.

…

Expand