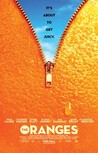 Starring:

Allison Janney

,

Catherine Keener

,

Hugh Laurie

,

Leighton Meester

Summary:

David and Paige Walling and Terry and Cathy Ostroff are best friends and neighbors living on Orange Drive in suburban New Jersey. Their comfortable existence goes awry when prodigal daughter Nina Ostroff, newly broken up with her fiancé Ethan, returns home for Thanksgiving after a five-year

David and Paige Walling and Terry and Cathy Ostroff are best friends and neighbors living on Orange Drive in suburban New Jersey. Their comfortable existence goes awry when prodigal daughter Nina Ostroff, newly broken up with her fiancé Ethan, returns home for Thanksgiving after a five-year absence. Rather than developing an interest in the successful son of her neighbors, Toby Walling, which would please both families, it's her parents' best friend David who captures Nina's attention. (ATO Pictures)

…

Expand
Director:

Julian Farino

Genre(s):

Drama

,

Comedy

,

Romance

Rating:

R

Runtime:

90 min
Please enter your birth date to continue:
You are not allowed to view this material at this time.
What makes you sit up straight is that The Oranges takes seriously everyone's unhappiness, including the home-wrecker's, without letting anyone off the hook of responsibility for their own becalmed misery.

While there are laughs, the farcical elements of The Oranges are not presented with sufficient discipline to live up to the full potential of its cast. But as a seven-year veteran of the New Jersey suburban experience, I can testify that it nails the milieu's specifics.

The storyline delicately tiptoes along the line of good taste and is embroidered by a first-rate cast. Still, a knockout moment is missing.

The film is worth seeing for the excellent ensemble work by a cast that, although diligent and appealing, remain somewhat less than thrilling. They do their best to plumb the depths of domestic dysfunction, but in the end, The Oranges does not quite deliver the goods.

While it claims to be exported from New Jersey, The Oranges is peddling an alien motto: When life hands you lemons, fuhgeddaboudit.

How could a movie starring Hugh Laurie, Oliver Platt, Allison Janney and Catherine Keener go so wrong? That is the mystery behind The Oranges, a dysfunctional-family comedy - excuse the cliché - that backs away in terror from its potentially explosive subject.

As much as the dialogue in the film voices an attitude of self-liberation and champions the positives of severing accepted social constraints, it seems to be constantly taking one step forward and two steps back.
Watched this movie recently and was really disappointed by the critical reception of this excellent film! Sure the premise is a little

Watched this movie recently and was really disappointed by the critical reception of this excellent film! Sure the premise is a little disconcerting at first, but I was really won over by the genuine nature of the central relationship, and the lack of understanding from the rest of the cast felt immensely real. Every time I felt myself becoming frustrated with a character I was able to step back and see the real genuine places they were coming from. Phenomenal writing, passable direction, A+ cast, and while the music made things a little corny here and there I feel sure in saying this is my one of my top movies to come out this year. More people should watch this film!

…

Expand

The Orange had the makings of a really funny movie. Excellent comedic cast, potentially hysterical premise, festive setting... But the

The Orange had the makings of a really funny movie. Excellent comedic cast, potentially hysterical premise, festive setting... But the writers (and probably director) just blew it. I was almost rooting for this film to take off, but it just sat there and got a little boring. Leighton Meester was just unlikeable enough, Hugh Laurie was just passive enough, and Oliver Platt lacked the razor-sharp wit that writers from his other films and tv shows typically supply him with. And the Catherine Keener role?? The goats? I wish they had taken another run at her story.

…

Expand

I expected a comedy, maybe my mistake. The acting didn't quite convinced me but what I really dislike is the plot, at the end it becomes a

I expected a comedy, maybe my mistake. The acting didn't quite convinced me but what I really dislike is the plot, at the end it becomes a simple drama with the typical life-teaching "never know where life's gonna take you".

…

Expand