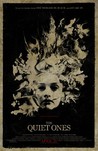 Starring:

Erin Richards

,

Jared Harris

,

Olivia Cooke

,

Sam Claflin

Summary:

An unorthodox professor (Jared Harris) uses controversial methods and leads his best students off the grid to take part in a dangerous experiment: to create a poltergeist. [Hammer Films]
Director:

John Pogue

Genre(s):

Horror

Rating:

PG-13

Runtime:

98 min
Please enter your birth date to continue:
You are not allowed to view this material at this time.
While the movie is not without its charms, there's nothing indicating that it's actually a Hammer movie.

If you look at a horror movie's prime directive to be to scare the viewer, there's no denying that, at times, The Quiet Ones got me.

There's creepy dolls, cameras tipped on their side, blasts of white noise and a horny teenage Scooby gang helping Jared Harris' Oxford prof stir up a poltergeist in the mind of a moody emo girl (Olivia Cooke).

The film relies on high production values and sense-battering shock tactics to make up for wooden performances and an illogical, silly script. As an exercise in retro pastiche, it impresses. But as a postmodern genre reinvention, it fails to deliver.

This demonic possession story is at times so lame it makes the last "Paranormal Activity" flick look like a masterpiece.

Ah, wait — it's an ancient Sumerian curse. That seems like poppycock to everyone but this film's four screenwriters, who also unfortunately go for crashes and yelling instead of a frightening story.
This is a thinking man's horror film, not a shock or gore fest. In that light this was masterfully done, you're uneasy from start to finish. Loved it.

When you and your buddies can't decide what movie you want to see and you leave it up to a coin toss, things don't always go well. The gesture

When you and your buddies can't decide what movie you want to see and you leave it up to a coin toss, things don't always go well. The gesture was done to help us decide between The Quiet Ones and Brick Mansions, two films that already weren't doing well with reviews but still caught our interest and released on the same day. Obviously The Quiet Ones won, but ever since the opening credits started rolling, I regretted not hopping on the Paul Walker memorial wagon. Stupid coin...

On a somewhat good note, if you weren't expecting anything that separates this from the slew of other movies like it, you may actually be surprised. Unlike the vast majority of movies that are focused on a spiritual demonic presence or possession, The Quiet Ones doesn't dwell on the act of an exorcism to rid the demon(s). Instead, we get a decent story about a group who doesn't even believe in the paranormal, and tries tying those events to mental illnesses that can be fixed through therapy. It was also kind of cool how the film switched back and forth between found footage and cinematic cameras.

Unfortunately, the movies plot was enough to make me drowsy and eliminated just about every positive thing that I could say about it. In terms of how this film implements its scares, I hope your eardrums aren't too sensitive. I've sat through a lot of horror movies that get out some good jump scares from loud noises, but this one definitely takes the prize for being the most obnoxious. Trying to hear in on a a nice conversation between characters? Sike! You won't even be able to hear them finish their sentence, because this movie thinks it's a good idea to cut off dialogue to scare the audience. I mean, it worked a couple times for me, sadly, but still. The worst part is, you don't even see anything that can be connected to that loud noise most of the time. Absolutely nothing can happen, and you get a scare snare... That's what I call them by the way, scare snares.

By the time the film was over, I had my forehead in the palm of my hand and released a couple sighs of disappointment in response to how things ended. Not only did I think it was incredibly ironic for a movie called "The Quiet Ones" to be one of the loudest movies I ever watched, but the way things built up to the end was pretty stale, and the way they came together in the end was far from original in an extremely annoying way... There was also an Olivia Cooke nipple, which was really weird to see in a PG-13 movie, but whatever. Bonus point.

Rating: 2.5/5 [5/10]
Version Seen: Theater (non-3D)
Party Size: 4
Watch It Again?: No
Buying BluRay?: No

…

Expand

This is all shock and no plot. Some of the jump scares are incredibly effective, and the filmmakers' use of the surround sound is some of the

This is all shock and no plot. Some of the jump scares are incredibly effective, and the filmmakers' use of the surround sound is some of the best I've heard. But unlike walking into a haunted house, where I know I'm simply trying to get from Point A to Point B with as many scares as possible, when I walk into a horror film, I need more than scares; I need a complete movie. This film is better served for a Saturday afternoon watch at home.

…

Expand

Entirely unimpressive. The biggest problem was that it was never scary, and that is clearly an important element. Those loud obnoxious noises

Entirely unimpressive. The biggest problem was that it was never scary, and that is clearly an important element. Those loud obnoxious noises did not do this movie any favors.

…

Expand

For a movie caled The Quiet Ones, it's pretty damn loud. Outside of being generally boring, this is just a string of predictable jump scares

For a movie caled The Quiet Ones, it's pretty damn loud. Outside of being generally boring, this is just a string of predictable jump scares without any buildup. It's not completely bad, though. It has some interesting characters and a decent story, and there's a pretty good twist at the end. It's on Netflix if you want to watch it, but I don't really recommend it.

…

Expand

What the hell is this? The Quiet ones is a badly acted, directed and it's a migraine of a movie. Sure, the some scares and the story is

What the hell is this? The Quiet ones is a badly acted, directed and it's a migraine of a movie. Sure, the some scares and the story is interesting but after that it goes downhill. Ignore this quiet one. Notes to the director: Shaky cam does not make a movie better, it makes it even worse.

…

Expand

This movie lacks everything. The story is weak, the acting is dreadful besides the main actor. Its not scary other then a few jump scenes. The

This movie lacks everything. The story is weak, the acting is dreadful besides the main actor. Its not scary other then a few jump scenes. The people stick it out so when they all die, your not a bit surprised. Its not worth a watch. Ive seen better acting on America's funniest home videos.

…

Expand