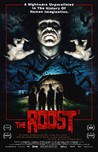 Summary:

Following a near-death car accident, four friends on their way to a Halloween wedding venture to a secluded farm for help. Little do they know however, they will soon disturb an ancient evil with far more ghastly plans in store for them! (Ti West)
Director:

Ti West

Genre(s):

Horror

Runtime:

80 min
The Roost advances a nifty man-vs.-nature scenario that harks back to Fessenden's own "Wendigo" and provides a nice chaser to a summer movie season populated by cuddly penguins and benevolent cheetahs.

It's clear right away that The Roost is no hack job. It's made by people who have a major love for the genre and generally anything that goes bump in the night.

The cynical should be warned that, as in "Blair Witch," most of the scares depend upon sound and editing rather than elaborate effects, but young director Ti West gets a lot of bang for his meager bucks.

Okay video-dungeon-style horror, a bit marooned on the big-screen but nevertheless murky fun.
Great score, very suspenseful and the acting is convincing. Some genuine scares, it moves along at a great pace. Skillfully directed by Ti We

st. Good special effects. A lot is accomplished without much of a budget.

…

Expand