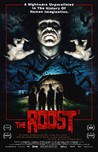 Summary:

Following a near-death car accident, four friends on their way to a Halloween wedding venture to a secluded farm for help. Little do they know however, they will soon disturb an ancient evil with far more ghastly plans in store for them! (Ti West)
Director:

Ti West

Genre(s):

Horror

Runtime:

80 min
Debuting helmer Ti West taps into the realist-horror spirit of mentor and exec producer Larry Fessenden, and makes a scarier pic than any by his master.

The Roost advances a nifty man-vs.-nature scenario that harks back to Fessenden's own "Wendigo" and provides a nice chaser to a summer movie season populated by cuddly penguins and benevolent cheetahs.

It's clear right away that The Roost is no hack job. It's made by people who have a major love for the genre and generally anything that goes bump in the night.

Ti West's affectionate homage to no-frills fright flicks keeps it simple and succeeds on its own stripped-down terms.

The Roost proceeds with such youthful enthusiasm that its rawness is more charming than annoying.

The Roost proves that West has enough talent to do without the gimmick next time around.

Keep your big-budget horror movie expectations locked away in a separate crawl space, because this grainy feature debut from writer-director Ti West demands that you buy into the silliness, and the cheese.
Great score, very suspenseful and the acting is convincing. Some genuine scares, it moves along at a great pace. Skillfully directed by Ti

Great score, very suspenseful and the acting is convincing. Some genuine scares, it moves along at a great pace. Skillfully directed by Ti West. Good special effects. A lot is accomplished without much of a budget.

…

Expand