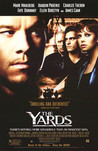 Starring:

Charlize Theron

,

Joaquin Phoenix

,

Mark Wahlberg

Summary:

A drama set in the vast New York City subway yards. After serving time in prison for taking the fall for a group of his friends, Leo Handler (Wahlberg) just wants to get his life back on track. So, Leo returns to the one place he thinks will be safe -- home. But in the yards, where his

uncle (Caan) now pulls the strings, safe is not how they do business. (Miramax Films)

…

Expand
Director:

James Gray

Genre(s):

Drama

,

Thriller

,

Crime

Rating:

Unrated

Runtime:

115 min
May not have enough story to sustain its narrative momentum, but Gray just might be our best shot at a new Coppola.

The cast is just right for this mini-"Godfather" yarn, and Gray's filmmaking is generally on target even if it does tend to dawdle along the way.

Won't startle or surprise you but will satisfy your need to see good actors at work.

Instead of the usual contrast of black and white, The Yards offers a vivid palette of grays, and it's a far more rewarding color scheme for a movie.

One more sluggish, artfully framed thriller with Rembrandt lighting set in a New York borough--a kind of picture that's awfully hard to do in a fresh manner.