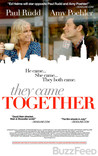 Summary:

Joel (Paul Rudd), a candy company executive, threatens to close down Molly's (Amy Poehler) mom-and-pop candy store, but the unlikely pair begin to fall in love.
Director:

David Wain

Genre(s):

Comedy

Rating:

R

Runtime:

83 min
It knows how to mock cliché big things, like jokes about set-dressing and music video montages; it's also wise about small matters, right down to the font and the framing device.

They Came Together is a very fast, often very funny riff on a very tired Hollywood formula.

In terms of its pure laughter quotient, They Came Together constantly delivers.

A lively comic jamboree that's sometimes smarter than it is funny and hits about as often as it misses, but is, on balance, a good deal of fun.

A great many of these individual scenes are funny... But the film fails to do what those rare, immortal rom-coms get right: take all its individually pleasing ingredients and make a satisfying movie out of them.