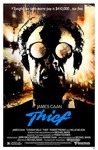 Starring:

James Caan

,

Tuesday Weld

Summary:

Becoming closer to his dream of leading a normal life, a professional safecracker agrees to do a job for the mafia, who have other plans for him.
Director:

Michael Mann

Genre(s):

Action

,

Drama

,

Thriller

,

Crime

Rating:

R

Runtime:

122 min
Please enter your birth date to continue:
You are not allowed to view this material at this time.
Michael Mann's Thief is one of the most confident directorial debuts of its era, the product of an unprecedented amount of research and preparation.

Brutal and precision-made, Thief is a high-tech crime movie that closes in on its subject with such relentless purpose that it approaches abstraction. Nothing enters Mann's frame that is not designed to be there: the expertise he honors in his criminal hero is mirrored by his own meticulous craftsmanship. He gets the job done--and blows you away while doing it. [30 Mar 1981, p.82]

Debut features are rarely this confident and accomplished, much less such a perfect blueprint of what to expect from a filmmaker down the line.

Although there are points where he gets bogged down in the technical aspects of thievery, the film is a slick Chicago crime-drama with a well-developed sense of pathos running throughout.

Realism by nature offends the dogmatic, and Michael Mann, in a writing-directing debut that makes one want to see his next movie instantly, is a devotee of the realistic in factual essentials, if not in esthetics. [27 Mar 1981]

It's the most exaggerated example yet of the abiding imbalance in modernist filmmaking, where an abundance of texture fails to conceal a minimum of substance, although it frequently makes the act of concealment pictorially exciting. [27 Mar 1981, p.C1]

Mr. Mann may well become a very good theatrical film maker but, among other things, he's going to have to learn how to edit himself, to resist the temptation to allow dialogue that is colorful to turn, all of a sudden, into deep, abiding purple. Time after time scenes start off well and slip into unintentionally comic excess.
Thief is probably one of Michael Mann's best film, besides The Insider and Heat, of course. James Caan shines and is in his third best role

Thief is probably one of Michael Mann's best film, besides The Insider and Heat, of course. James Caan shines and is in his third best role (in my opinion), besides Sonny Corleone and Paul Sheldon.

…

Expand

Crackling camerawork and dialogue ignite Michael Mann's first foray into feature length filmmaking - "Thief" feels miraculously as though it

Crackling camerawork and dialogue ignite Michael Mann's first foray into feature length filmmaking - "Thief" feels miraculously as though it were made yesterday.

…

Expand