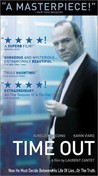 Starring:

Aurélien Recoing

,

Karin Viard

Summary:

After losing his job, Vincent (Recoing) can't bring himself to tell his wife (Viard) and children, so he wanders around France during the day, while they think he's at work, and finds himself on a moral and ethical journey of conscience that challenges the notions he's formed about life.

After losing his job, Vincent (Recoing) can't bring himself to tell his wife (Viard) and children, so he wanders around France during the day, while they think he's at work, and finds himself on a moral and ethical journey of conscience that challenges the notions he's formed about life. (ThinkFilm)

…

Expand
Director:

Laurent Cantet

Genre(s):

Drama

Rating:

PG-13

Runtime:

134 min
Recoing gives a performance that won't soon be forgotten. Neither will Time Out. It's a great movie.

Cantet's masterful study of a white-collar businessman in decline.

There's piercing sadness, and fury, too, in this Everyman's isolation, and Cantet is singularly skilled at evoking the universal condition of such tragic ordinariness.

If the movie has a flaw, it's that the working out of Vincent's psychology is too perfect.

Cantet's script and direction are flawless, and, matched step-for-step by Jocelyn Pook's mournful score, he builds the tension to near unbearable levels.

Recoing's meta-performance is an unemphatic marvel, his placid countenance stretched tight over telltale flickers: a quickly suppressed smirk of incredulous delight, a nervous twitch of chagrin, an abrupt pang of guilt.

Looks great but moves like molasses, is more interesting than truly involving.
If Time Out could've been better, it should've been a 10, however; the 10 score is locked and is only accessed by the greatest movies I've

If Time Out could've been better, it should've been a 10, however; the 10 score is locked and is only accessed by the greatest movies I've ever seen... but then again you might give it a 9 just for how great it is.

…

Expand

Do not waste your time watching this film. There is only atmosphere and no substance. You watch the first 5 minutes of the film and you saw it

Do not waste your time watching this film. There is only atmosphere and no substance. You watch the first 5 minutes of the film and you saw it all. No meaning, no value whatsoever the rest of the way. The worst French film ever!

…

Expand