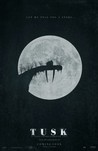 Director:

Kevin Smith

Genre(s):

Drama

,

Horror

,

Comedy

Rating:

R

Runtime:

102 min
A parable that concerns the monstrous conduct of humans, Tusk is a salute to storytelling, a comic send-up of Canadiana – with awesome references to Degrassi and Duplessis – and a terrorizing vehicle for sharply conceived absurdity.

This is not a movie you forget about as you're heading for the exit. I'm not sure it's a movie you'll ever forget.

It's ultimately Parks who carries Tusk, and carries it farther than it should have gone.

Tusk is revolting, but that's entirely the point of Kevin Smith's admirably imaginative and utterly disgusting latest feature, a twisted fairy tale that trades on gross-out gags and visual shockers instead of actual story.

Crazy plot aside, Tusk offers some thought-chewing ideas on human duality, both good/evil and man/beast.

Like most self-conscious attempts at a "midnight movie," Tusk lacks the conviction that would make it anything more than an outré curiosity; it's essentially a filmed dare, combined with fan service.

Tusk is a step backward into an insular world. True, it will probably play well to gore fans, and that dedicated audience who already cheer everything Smith does.
Ones and zeros? Give me a break. This movie was hilarious. It's a perfect send-up of all the torture porn/gore flicks that we've been

Ones and zeros? Give me a break. This movie was hilarious. It's a perfect send-up of all the torture porn/gore flicks that we've been inundated with. Perhaps this has gone over the heads of the reviewers here? "Now, we'll finally get the answer to the question that's been burning ever since we crawled out of the surf: Is man actually a walrus at heart?" If you go into this movie looking for anything other than Clerks/Dogma satire and subversion, just stay home. It's more like an 8/10, but I'm attempting to balance two ridiculously pedantic reviews.

…

Expand

I thought that it was a funny, yet horrific torture movie, that will leave me terrified of walruses forever. With great acting and an original

I thought that it was a funny, yet horrific torture movie, that will leave me terrified of walruses forever. With great acting and an original plot, Tusk brings out the best of Kevin Smith..in my opinion...

…

Expand

This movie isn't for everyone. Though If you are a Kevin Smith fan or into B rated horror movies then you are in for an amazing treat. Kevin

This movie isn't for everyone. Though If you are a Kevin Smith fan or into B rated horror movies then you are in for an amazing treat. Kevin Smith spins a wonderful story of a man wanting to relive the one true friendship in his life that just so happened to be with a walrus.

When you get down to it this movie was made because Kevin Smith fans wanted it. People are tired of seeing the same old Hollywood rehashes and remakes that they shove down our throats. Kevin Smith gives us something original a new idea in a see of the same old **** Yes the movie is ridiculous full of camp and satire. Yes it mocks horror tropes and heavily satires the internet culture. Yes you are going to see what Kevin Smith does best and brings the best out of actors.

To all the people bashing this movie it was not made for you. You were not the audience and really have no right to judge it.

…

Expand

Wallace Bryton: "I don't wanna die in Canada!".

The story to Tusk is about a young man goes searching for his best friend, and podcastWallace Bryton: "I don't wanna die in Canada!".

The story to Tusk is about a young man goes searching for his best friend, and podcast co-host, after he goes missing in the backwoods of Canada, along with his friend's girlfriend.

Tusk was a movie that I never heard of until last week when I got a chance to watch it. But before seeing it I heard a lot of mix reviews for this movie, some people say it's like a guilty pleasure to them and they had a good time with the film, but with other people who said the movie is laughably bad and nothing to it.

In my opinion Tusk is a okay movie and I was actually surprised that I didn't laugh as much as I thought I would, but there are some scenes that made me laugh a little bit like Justin Long character (Wallace) start's to scream for help and the mad man who's turning Wallace into a Walrus played by Michael Parks, he start's to make a weird but funny scream while pulling a mad face, that scene was pretty funny.

Kevin Smith as a film director can make good, okay and really bad movies during his career. Dogma was brilliant, Zack and Miri Make a Porno was descent flick and Tusk falls into the okay pile.

Justin Long's did a good job in this movie, not fantastic, just good. His character is supposed to be a big douche bag, but even a douche bag in real life wouldn't be like this guy, because Justin Long made his character so unlikable and so stuck up at the beginning that I truly didn't care for him, until the end where I didn't hate him as much and I think that's what the movie was going for.

Michael Parks did great in this film playing the insane person who's obsessed with walrus, and he got all the craziness and the comfortableness in just one character. Haley Joel Osment also was good in the movie, just like Justin not great just good.

The movie itself and I'm not joking around here but it's actually pretty enjoyable, you don't see much of the gore just the after math, like one of his body part will have been removed and judging by the way it's been cut off or removed it looks extremely painfully and a lot of hard work.

The movie has a lot of problems like the film is trying to be it's so bad that it's funny but it really didn't work for me, because the writing is amazingly mix for me and it's very usual for me to say that. The comedy wasn't funny at all and it just left me into silence, until that weird but funny scream while pulling a mad face scene was pretty funny. The all movie should have been a shock fest kind of film and I normally don't request a horror movie to do that, but a story like this is like a shock fest film that never got the big picture.

Johnny Depp french accident in this movie was just god awful and to be honest he should have been cut out of the film. I like Johnny Depp as a person and as a actor but this wasn't his movie to shine in.

Overall Tusk is okay film, but I wouldn't really recommend it but if you're the kind of person who likes to watch stupid horror flicks like this then go ahead.

…

Expand

Come back to us, Kevin Smith. I know what it's like, I used to smoke weed every single day. Eventually, it makes you think that your ideas

Come back to us, Kevin Smith. I know what it's like, I used to smoke weed every single day. Eventually, it makes you think that your ideas are much better than they really are. You don't realize it until you take some time off.

…

Expand

This movie is just weird. It's overwritten, overacted and full of offensive Canadian stereotypes. It does have its funny moments, but one

This movie is just weird. It's overwritten, overacted and full of offensive Canadian stereotypes. It does have its funny moments, but one can't help but think that Kevin Smith totally missed the mark with this one. Even Johnny Depp, who gives a bizarre interpretation of a French Canadian detective doesn't use his name in the credits. It's just a disappointing film all the way around. It does have good make-up effects though.

…

Expand

I don't mind high-concept films, i don't mind gore, the bizarre films, i don't mind comedy, but unfortunately this film fails (spectacularly)

I don't mind high-concept films, i don't mind gore, the bizarre films, i don't mind comedy, but unfortunately this film fails (spectacularly) on all of those fronts. Easily the worst film I've been unlucky enough to buy a ticket to for many, many years. A nasty, humorless, adolescent, heavy-handed, badly acted crap-fest that leads one to wonder exactly how the supply-side of the crack trade keeps up with Kevin Smiths evidently Herculean intake. If you are a Smith fan-boy and you are STILL supporting Kevin and his films, it's not too late to shake off your uncritical and blind devotion (he will never write another Clerks) and find something worthwhile to align yourself with.

…

Expand