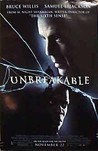 Starring:

Bruce Willis

,

Samuel L. Jackson

Summary:

David Dunn (Willlis) is the sole survivor of a devastating train wreck. Elijah Price (Jackson), a mysterious stranger, offers a bizarre explanation as to why David escaped without a single scratch, an explanation that threatens to change David's family and life forever. (Touchstone Pictures)
Director:

M. Night Shyamalan

Genre(s):

Drama

,

Mystery

,

Thriller

,

Fantasy

Rating:

PG-13

Runtime:

106 min
Please enter your birth date to continue:
You are not allowed to view this material at this time.
"The Sixth Sense" was no fluke. Unbreakable, writer-director M. Night Shyamalan's dazzling reunion with Bruce Willis confirms he's one of the most brilliant filmmakers working today.

Willis gives a remarkable, wrenching performance: He is the most fragile indestructible man ever created.

It's rare that a a movie leaves you pinned to your seat, wanting to see it again -- right now, this minute -- to work out the pieces of the puzzle. Unbreakable is one of those movies.

Whatever he (Shyamalan) did, he shouldn't have tried to send the same lightning bolt down to Earth in the same place.

Far-fetched and utterly humorless, with a literally tacked-on conclusion (yes, more text on the screen), the only thing that's surprising about Unbreakable is how lame it is.

A potentially interesting idea deflated by the absurd proclamations of an arch screenplay and smothered under the ponderous gravity of M. Night Shyamalan's dreary direction.
This movie has many different elements but boring it's audience is not one of them. After a second viewing of the film one will see the true

This movie has many different elements but boring it's audience is not one of them. After a second viewing of the film one will see the true masterpiece that is unbreakable

…

Expand

First, the guy who said 1 hour and 47 minutes of boring... He is no critic... The Motion Picture- Unbreakable, come on... Pure genius, an

First, the guy who said 1 hour and 47 minutes of boring... He is no critic... The Motion Picture- Unbreakable, come on... Pure genius, an excellent film for everyone... A superb message for all...

…

Expand

Unbreakable is M. Night Shyamalan's often overlooked masterpiece. It stars Bruce Willis is excellent as David Dunn, and an awesome Samuel L.

Unbreakable is M. Night Shyamalan's often overlooked masterpiece. It stars Bruce Willis is excellent as David Dunn, and an awesome Samuel L. Jackson in my favorite role he's ever done. There is no superhero film more realistic than this one, nor does any other superhero film have such a perfect ending. I don't want to give away any more than I should, but it's hard not to. While it's not perfect, it more than makes up for it's little flaws with it's emotional undercurrent and subtle brilliance. I could not recommend Unbreakable more.

…

Expand

This is one of the better films by M. Night. Good stuff; compelling idea and great twist. Just overall good acting, plot, and flow. I really

This is one of the better films by M. Night. Good stuff; compelling idea and great twist. Just overall good acting, plot, and flow. I really hope they make an "Unbreakable 2".

…

Expand

Another great M. Night Shayamalan film. Nice to see two great actors at their best on display in this movie. Bruce Willis and Samuel L.

Another great M. Night Shayamalan film. Nice to see two great actors at their best on display in this movie. Bruce Willis and Samuel L. Jackson were both brilliant in Unbreakable. This film was very well thought out and everything comes together in the twist ending. This ones a classic.

…

Expand

It may not be the best movie from the past eleven years, but for fans of M. Night Shyamalan, this is a very good film.

The premise about aIt may not be the best movie from the past eleven years, but for fans of M. Night Shyamalan, this is a very good film.

The premise about a man who survived the train accident and learns that a man who likes comic books and heroes is stalking him was spooky, but very good. The story was a very nice concept, but suffered from a weaker ending.

The acting was very solid and the chemistry between Bruce Willis and Samuel L. Jackson was well built together and the pacing was very decent.

The suspense was chilling and very satisfying it got me interested to want to know what's going on. The soundtrack from James Newton Howard was a lot of fun I want to check it out soon.

Unbreakable's weaker ending doesn't cover it up, but like The Sixth Sense and Signs, M. Night Shyamalan did his best to give me some scares.

7.3 out of 10

…

Expand

Unbreakable It is hard to review this film as a motion picture, because it feels more like TV soap opera on mute. The 1 hour and 47 minutes

Unbreakable It is hard to review this film as a motion picture, because it feels more like TV soap opera on mute. The 1 hour and 47 minutes of boring, predictable and foolish sequences of silence in between unbelievably repetitive dialogue easily make this movie one of the most roll-your-eyes producing films I have ever gone threw. Bruce Willis plays the dull and slow-moving David Dunn, a lone and unharmed train wreak survivor who discovers that he is unable to sustain injury. Meanwhile, the emotionally unstable and easily injured Samuel L. Jackson plays the obviously brilliant yet deceiving psycho who thinks comic book heroes walk the earth. The movie unravels from somewhat interesting to boring. It takes most of the movie for what is at hand not to be dealt with, and you find yourself staring at the mysterious situation put forwards simply not breaking through with a much needed common thriller plot twist or breaking point. This is of course, until towards the very end. One central problem with the movie is that it is highly unlikely that one man would go his entire life without tripping or falling and wondering why there was no pain or injury. His mother would not wonder why he never got Chicken Pox? His father would never wonder why his knee did not bleed when he fell on it extremely hard during some catch? His wife would not wonder why when he slipped in the shower and smashed his head on the floor that he did not feel any pain? It just seems so unbelievably silly and impossible for this to happen and for nothing to be realized until a frickin train accident at the age of 40. The movie is essentially unrealistic beyond obvious proportions. The acting performances are easy and have no depth due to the pathetic script handed to the actors only to damage there impressive careers. Put simply, this movie is bad. If you wish to take my advice, avoid it by any means

…

Expand