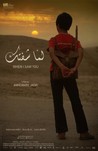 Summary:

Jordan, 1967. The world is alive with change: brimming with reawakened energy, new styles, music and an infectious sense of hope. In Jordan, a different kind of change is underway as tens of thousands of refugees pour across the border from Palestine. Having been separated from his father in

the chaos of war, Tarek, 11, and his mother Ghaydaa, are amongst this latest wave of refugees. Placed in "temporary" refugee camps made up of tents and prefab houses until they would be able to return, they wait, like the generation before them who arrived in 1948. With difficulties adjusting to life in Harir camp and a longing to be reunited with his father, Tarek searches a way out, and discovers a new hope emerging with the times. Eventually his free spirit and curious nature lead him to a group of people on a journey that will change their lives.

…

Expand
Director:

Annemarie Jacir

Genre(s):

Drama

Rating:

Not Rated

Runtime:

93 min
Yet another first-rate film from a Middle East rich with them.

Like Antoine Doinel in The 400 Blows, Tarek has a way of using defiance and sarcasm to make himself seem smarter than any ostensible authority figure.

When I Saw You is a soft-centered child's-eye view of alienation, toughened by fine acting (Saleh Bakri shines as a fighter drawn to Ghaydaa) and Hélène Louvart's full-bodied photography.
Tarek, 11, is a refugee from Palestine. Is in attempt to return home to his father, whereas, home is at state of war. This film is overlooked,

it has beautiful performances coming from the whole cast, especially the young kid, a touching story of patience and will. I liked it for the most part, but I felt that it should've been a bit longer, although it felt slow towards the third act, and incomplete. The characters where two dimensional, I would love to know about their past, how Tarek was related to his father, and if he is ever going to find them. "When I saw you" isn't a flawless movie, but it is serious in tone and is trying to deliver positive messages but they eventually pass over your head because you are not relating to the characters much. I don't know if it is going ever to be released on DVD or Blu-Ray, so just go watch it in theaters, not many are showing this film, but if you ever encounter one that is showing it, don't miss it, it is worth your time.

…

Expand