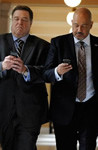 Summary:

Amazon's first original series is a political comedy from Doonesbury cartoonist Gary Trudeau about a group of U.S. senators who share a Washington, D.C. rental house. John Goodman, Clark Johnson, Cynthia Nixon, Wanda Sykes, Matt Malloy, and Amy Sedaris star. Episodes after the first three

Amazon's first original series is a political comedy from Doonesbury cartoonist Gary Trudeau about a group of U.S. senators who share a Washington, D.C. rental house. John Goodman, Clark Johnson, Cynthia Nixon, Wanda Sykes, Matt Malloy, and Amy Sedaris star. Episodes after the first three will be exclusive to Amazon Prime members.

…

Expand

Genre(s):

Comedy

,

Drama
Show Type:

Hasn't Aired

Season 1 premiere date:

Apr 19, 2013

Episode Length:

25

Air Time:

12:00 AM
Alpha House is satire at its most blistering and biting, delivered by a master of the trade: Doonesbury's Garry Trudeau, whose contempt for political cynicism, venality and hypocrisy doesn't keep the jaded protagonists of this bawdy, brazen comedy from being great company.

In tone, Alpha House tacks much more closely to Veep but it shares certain elements with House of Cards as well, most notably the superb camerawork and smart writing.

A very funny political comedy from "Doonesbury" creator Garry Trudeau and journalist Jonathan Alter that could hold its own with HBO's "Veep."

Mr. Trudeau has a feel for not just political hypocrisy but also character, and this cast manages to bring life and even some charm to these Capitol Hill caricatures. Alpha House is not yet as sharply honed as "Veep," but it could get there; it certainly has plenty of material to work with.

Another of those amusing but not necessarily laugh-out-loud funny sitcoms that are so popular on premium cable channels.

The best reason to stick with Alpha House so far is that its ideas are stronger than its execution.... If Trudeau wants to argue, say, that today's GOP is hypocritical, extreme, or dangerous, that's fine--that's satire--but it would be stronger and funnier if it engaged with a non-caricature version of the party.

Alpha House hits a few notes of inspired satire--like the bowl of American flag lapel pins the senators keep on the kitchen counter--but Trudeau's been more biting and much funnier elsewhere, past TV efforts like Tanner '88 and the malaise-infected Doonesbury Special included.
This series is brilliant satire. What makes it so effective, very funny, and yet absolutely interesting, is that it is very close to the truth

This series is brilliant satire. What makes it so effective, very funny, and yet absolutely interesting, is that it is very close to the truth in depicting the political class. The actors are perfect; the dialogue is witty, clever, and, frequently they deliver a perfect caricature of the speech, attitudes, and unwitting hypocrisy of so many politicians. Highly recommended.

…

Expand

This show is certainly dry in it's humor, but it is hilarious. John Goodman and Clark Johnson are absolutely hilarious. The show is also

This show is certainly dry in it's humor, but it is hilarious. John Goodman and Clark Johnson are absolutely hilarious. The show is also very liberal. If you are a liberal and a political junkie, you'll probably like it. I can't imagine many conservatives would like it, and I wonder if that is affecting the user score for this show.

…

Expand

This is a great show, with 2 major let downs. The first is that each episode is much too short. Politics is a lot more involved than 20+

This is a great show, with 2 major let downs. The first is that each episode is much too short. Politics is a lot more involved than 20+ minutes can allow for. Second would have to be the poor attempts at tying all of the episodes together. We get it, you are supposed to take more than one episode to run for and win elected office but surely we can spend some time doing a little more political fighting. Other than those two small complaints its a brilliant and thanks to John Goodman funny show.

…

Expand

The humor is dry and biting. Don't forget to bring your cynical face to the game, remember, Republicans are good and everyone else is wrong.

The humor is dry and biting. Don't forget to bring your cynical face to the game, remember, Republicans are good and everyone else is wrong. Are there Senators like this wandering the halls of Congress? Not these particular ones, but there is a piece of every Senator represented. The writing does not contain a laugh track, as well it shouldn't. I found some things very funny that the person sitting next to me didn't even raise an eyebrow at. However, being ex-military (and formally in charge of Marine security at West African embassies) he couldn't stop laughing out loud at show #3."That's exactly how Congressmen act!" he said between tears of laughter.

…

Expand

I was late to the party on this one. Thanks for the snub Emmy voters, the coverage put it on my radar.

There's a heavily left-wingI was late to the party on this one. Thanks for the snub Emmy voters, the coverage put it on my radar.

There's a heavily left-wing political agenda at play here but the show relies on logic (instead of snide cheap shots) to make its point.

It's a very likable and funny cast of characters and almost every single thing about it works on multiple levels.

…

Expand

I had high hopes for this show, hoping for a lighter 'House of Cards' driven by Gary Trudeau's talent. Those hopes quickly crashed.
ThereI had high hopes for this show, hoping for a lighter 'House of Cards' driven by Gary Trudeau's talent. Those hopes quickly crashed.
There were moments in this show that were good that were drowned in the larger cringe-worthy abyss. The scenes that featured Clark Johnson were often interesting and felt like they were realistic. John Goodman is capable of being very funny when he is well directed (Inside Llewyn Davis) but when he is not as in this show he's too over the top. The scenes involving Marc Consuelos and especially Matt Malloy were like actors trapped in a bad Saturday Night Live sketch.
The writing for this show is awful. There is little subtlety and little wit of a good Doonesbury comic strip, just cheap laughs and retread pokes at cardboard politicians, something even Doonesbury lapses into at times. The politicians happen to all be Republican, and as ThinkProgress points out, "One of the dullest decisions in the original pilot of Alpha House was to make all members of the house Republicans, and to make them all risible." But the bigger mistake is not to make the characters actual people. That doesn't mean they have to be likable (again, see Llweyn Davis), just flesh them out some.
If you're the kind of person who laughs at any joke that makes fun of Republicans or Conservatives is funny then this show might be for you, but if you're the kind of person who is empathetic to diverse viewpoints and appreciates intelligent comedy then don't waste your time.

…

Expand

Just now I suffered through the first episode, and I really like political tv shows, drama and comedies, but this one is just in every sense

Just now I suffered through the first episode, and I really like political tv shows, drama and comedies, but this one is just in every sense boring and not funny at all !

…

Expand