Network:

FX

Series Premiere Date:

Oct 5, 2011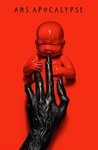 Starring:

Kathy Bates

,

Angela Bassett

,

Michael Chiklis

Summary:

Set in 1952, a freak show run by Elsa Mars (Jessica Lange) comes to Jupiter, Florida. Also set to appear: Angela Bassett, Kathy Bates, Michael Chiklis, John Carroll Lynch, Sarah Paulson, Evan Peters, Emma Roberts, and Gabourey Sidibe.

Genre(s):

Horror
Please enter your birth date to watch this video:
You are not allowed to view this material at this time.
Freak Show looks like a beauty, with a wealth of fascinating characters and a little smattering of heart helping to balance out the grisly appointed rounds of a so far unidentified clown with a hellish half-mask.

Whom to vote for--Dot or Bette? Or will Paulson end up splitting the vote? The special effects are so seamless and Paulson's performance so memorable that it's not a completely incidental question. Then, of course, there's Lange.

There's enough talent and intensity here for me to step behind the tent flap, to see if all this can cohere into something super freaky.

It's hardly [his crowning achievement], lacking the aggressive whimsy and emboldened storytelling that's made him the pied piper to a nation of TV-watching weirdos, mocked and ignored. But there's a seriousness with which he's given this first Freak Show outing that actually piques more of a curiosity than trotting out the expected onslaught of spooks, one-liners, and cheekiness could've possibly be done at this point in the American Horror Story run.

The overall narrative is a bit lacking, just as you don't go to a circus show in the hope of seeing all the various acts tied together through storytelling. Yes, there's a murder to hide, a few secrets for each of the major characters, and Murphy's overall arc of the outcast who holds more humanity than the "normal people," but I hope the actual storytelling of American Horror Story: Freak Show improves in subsequent episodes.

It still has plenty of clever touches in word and picture.... But it's not particularly scary, and doesn't even feel that creepy or freakish, despite the sideshow setting and the obvious attempt to emulate one of the eeriest of American movies, Tod Browning's "Freaks," from 1932.

Freakshow boasts some extraordinary performances by actors who labor in vain against a sometimes plodding script, weighed down with underwhelming horror moments, way too obvious metaphors about tolerating differences and a pervasively airless claustrophobia.
Oh my goodness, I've been waiting so long for this season and I'm not disappointed. The characters are perfects, the story is very good, not

Oh my goodness, I've been waiting so long for this season and I'm not disappointed. The characters are perfects, the story is very good, not predictable at all, the performance of the cast is awesome and I don't know what to expect next, but I think will be an amazing season.

…

Expand

Episode 3 of season 4 review:

Obviously, nothing can beat this anthology series. it's just too beautiful and amazing. No tv-show could everEpisode 3 of season 4 review:

Obviously, nothing can beat this anthology series. it's just too beautiful and amazing. No tv-show could ever bring a good horror to your tv like Amercan Horror Story. Last episode was simply over the top amazing. I don't know what made this episode so perfect. Is it Jessica Lange singing a Lana Del Rey song? or is it the truly eccentric and astonishing new character; Edward Merdork? And the list goes on! I think every moment of episode three was beautifully done! Can't wait for more.

Majid Al-Ansari

…

Expand

Por mais que seja difícil de assistir, por se tratar de temas delicados e mostrar a sociedade daquela época como realmente era com relação ás

Por mais que seja difícil de assistir, por se tratar de temas delicados e mostrar a sociedade daquela época como realmente era com relação ás pessoas com anormalidades, essa temporada promete ser bastante agonizante.

…

Expand

Now we are getting back into the wheelhouse of horror. Some scary things, some bizarre things, and some good acting by everyone means this is

Now we are getting back into the wheelhouse of horror. Some scary things, some bizarre things, and some good acting by everyone means this is a definitely better season.

This story about a freak show run by Elsa Mars, a German woman who leads the group in Jupiter Florida in the 1950s.

The story is about the Freakshow itself, the new people they meet and the subsequent background stories, a murdering clown, a possible second clown, a summoned creature and references to two other seasons of American Horror Story.

The acting is very good, there are several main characters of people who are unique, and there is Michael Chiklis (from the Shield and the Commish). There is some scary parts, and a lot of trying to figure out where a person fits in.

My only part I didn't like was Sarah Paulson's role. She was an excellent actress, but trying to play both twins of a Siamese twin, just didn't work for me. However, it wasn't Ms. Paulson's fault, she did well, I just couldn't buy her character for some reason.

Pros: Even better then the first three seasons, the story is fairly unique, the characters are very entertaining and Jessica Lange can sing really well.

Cons: The Siamese Sister bit didn't work for me.

I am looking forward to Season 5, where we get to meet Lady Gaga in a role.

…

Expand

Com personagens pouco desenvolvidos e narrativa problemática, American Horror Story nos entrega aqui seu pior ano ate agora. Como de se

Com personagens pouco desenvolvidos e narrativa problemática, American Horror Story nos entrega aqui seu pior ano ate agora. Como de se esperar, as atuações estão fantasticas como sempre.

…

Expand

This review contains spoilers

, click expand to view

. Not as horrible as Coven. Still it is a complete mess of a story. Apparently the writers didn't bother to keep track of what they were writing. In one episode the kidnapped girl gets dragged back to the clown by Dandy, the kid sees him as well. The next episode they can't figure out who the second clown was. One episode the strongman tries to kill the strongwoman and the freaks want to execute him. The next episode the strongman and the freaks run around the woods together searching for Ma Petite. Also rather than crying about their lives the bearded woman could just shave her stupid beard and the lobster boy could get an operation.
I bet it was a torture for Lange to play that cheesy over the top German mistress. No wonder she decided to leave.

…

Expand

I've watched this show from this its beginning, I am utterly disappointed with this season. Glee is dead, there is no reason AHS should have

I've watched this show from this its beginning, I am utterly disappointed with this season. Glee is dead, there is no reason AHS should have singing for an empty tent, or at all really. What a sad rip off of the classic "Freaks". And now there's Lord Voldemort!?! Ryan Murphy just stop it. I had a bad feeling when I heard you were directing so I guess my instincts were right.

…

Expand