Network:

FOX

Series Premiere Date:

Feb 6, 2017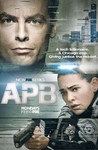 Summary:

Billionaire Gideon Reeves (Justin Kirk) takes over the Chicago Police Department's 13th district and turns it into a private police force after his best friend is murdered with the help of officer Theresa Murphy (Natalie Martinez) and technical officer Ada Hamilton (Caitlin Stasey).

Genre(s):

Drama

,

Action & Adventure
Season 1 premiere date:

Feb 6, 2017

Episode Length:

60
Please enter your birth date to watch this video:
You are not allowed to view this material at this time.
A not nearly as bad (as you feared) cop procedural, plus toys that go boom.

Hours two and three, also made available for review, are somewhat better executed [than the premiere episode].

This procedural revolves around their predictable relationship.

[Justin Kirk's Gideo Reeves]'s so dumb, but this show thinks he's so smart, because this show is so dumb. [Feb 3/10 2017, p.102]

Reeves is trying to do something about the state of law enforcement in America, but APB, with its alternation of tedious command-center computer-gazing and routine cops-chasing-bad-guys action, doesn't seem like a concept that will keep viewers intrigued week after week.

APB has some fertile ideas at its core; for instance, the app Reeves unveils actually has a number of intriguing features. But the lack of bold engagement with the implications of the drama's premise, combined with a number of formulaic elements, makes for a generally unsatisfying viewing experience.

The only way it would be watchable is if it was some kind of Robocop deal--and that's a 20th century idea. No, this is just another in a very large pile of not-very-good ideas that got turned into a TV show. Go play with one of your apps instead.
Finally an exciting show using imagination and leading edge tech. This is a fun show. Really liked the hopped up motorcycles this week. APB !

Finally an exciting show using imagination and leading edge tech. This is a fun show. Really liked the hopped up motorcycles this week. APB ! Can't wait till next week!

…

Expand

Best new series - excellent cast, acting & filming. A realistic Sci-Fi with cool Tech and lots of action. I love the humor Justin Kirk brings

Best new series - excellent cast, acting & filming. A realistic Sci-Fi with cool Tech and lots of action. I love the humor Justin Kirk brings to the role. Very reminiscent of Robert Downey Jr.'s Tony Stark. I can't understand how anyone would give this show less than 8 out of 10 - its better than almost any other show that has come out lately. Maybe it jut isn't "arty-farty" enough for all the haters out there...

…

Expand

Great New series! Love the ideas it proposes. Love the nod to a Tony Stark like persona. Love the Tech. It is like Knight Rider merging

Great New series! Love the ideas it proposes. Love the nod to a Tony Stark like persona. Love the Tech. It is like Knight Rider merging with TJ Hooker, from those from the 80's.

…

Expand

If you start from a very poor idea ( a billionaire bribing a Mayor to take control of a police department) the development of this idea is not

If you start from a very poor idea ( a billionaire bribing a Mayor to take control of a police department) the development of this idea is not going to improve the final product. Bad and promising to get even worst.

…

Expand

Billionaire, using its money and innovations, creates a service that helps people and a superior government analogue. Do you think this

Billionaire, using its money and innovations, creates a service that helps people and a superior government analogue. Do you think this summary of this series? Not only. Is Pure Genius series, which has exactly the same story, only instead of the police station - hospital.
Stereotyped idea, implausible story, and disgusting acting (especially Caitlin Stasey plays annoyingly). APB is one of the worst series this year.

…

Expand

The premise of this program is just plain ludicrous even for science fiction fans or people who love to buy expensive toys. APB would have

The premise of this program is just plain ludicrous even for science fiction fans or people who love to buy expensive toys. APB would have made an excellent video game but just doesn't cut it as a TV show.

…

Expand

I had to stop watching after the scene where the billionaire guy basically bribed government officials to give him a police district to do as

I had to stop watching after the scene where the billionaire guy basically bribed government officials to give him a police district to do as he pleases... in public....in broad day light. What absolute trash. We all know stuff like that don't happen. There's no way any government official will cave to that in PUBLIC. But this show believes we are 5 year old children. LOL. Sorry, this deserves nothing more than a 0. Don't waste your time.

…

Expand