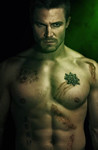 Summary:

After The Undertaking, Felicity and Diggle search for Oliver, as Queen Consolidated faces a hostile takeover, Laurel begins a new job, and Roy finds trouble while trying to save people.

Genre(s):

Drama

,

Action & Adventure
Show Type:

In Season

Season 2 premiere date:

Oct 1, 2012

Episode Length:

60

Air Time:

08:00 PM
The sophomore-season premiere shows no signs of slumping.
The 1st season of show was entertaining and introduced us well-written, 3 dimensional characters. Oliver Queen, the rich playboy who had to

go through so many things, that it's nearly unbelievable, that he stayed alive. But he did and moreover, became better person and badass crime-fighter with bows and arrows. His allies, Diggle and Felicity are also great, and enjoyable to watch. But 2nd season of show is Great! It's becoming better and better each week. The midseason finale of 2nd season introduced Barry Allen aka yet-to-become "Flash"(played by marvelous Grant Gustin), which was another successful decision of WB and CW. Hope they will keep that pace.

…

Expand

This review contains spoilers, click expand to view.

BETTER then season 1. Season 1 started off as crap, but ended on a high note. They picked up from where they left off and have continued to increase the awesomeness off this show. I mean Deathstroke the freaking Terminator was the seasons big bad. It had the Suicide Squad. Since the last 5 episodes of season 1 this show is my favourite.

…

Expand

Arrow took such a big leap in season 2. This show is a must watch for the DC lore itself. The story plays out in 2 timelines. The present

timeline in which Oliver is the bow and arrow vigilante and the Island timeline which shows Oliver slowly becoming the Vigilante we see in the present. Also, the action in season 2 has been superb! Enjoy the ride

…

Collapse

This review contains spoilers, click expand to view.

Things took a huge step in season 2 as more Comic characters are introduced. Deathstroke was amazing and sooo intimidating. Characters like Roy (Red Arrow), Black canary, huntress open the door for much more potential and lets not forget the introduction of the Suicide Squad and League of Assassins and the 5 second cameo of Harley Quinn. This season has been a great year of TV for Arrow and i cant wait for Season 3.

…

Expand

I'm a little conflicted with this season. I like how there are a heck of allot more nods and winks to DC lore, granted many are done a bit out

of context, but this is a new DC universe so a bit of shifting around of names and references is to be expected.

However, I was a little bummed that the series steered away from the darker grittier tone of the first season and started having a Smallville-ish vibe to it. A shame. But that doesn't mean I don't like the new direction (I liked Smallville.)

I really do hope that Season 3 will have some more Iconic villains and perhaps include some more "Meta-Humans" (as named in the Flash series.) I do like the realistic approach that the show was initially going for, but as is, I do feel the show will do better being less Nolan-y and more DC-ish.

Overall:
The Arrow Season 2 was pretty decent. In many ways not as good as season 1 but also better in other ways. I just hope the writers and producers can decide what direction they want this show to go and stick to it. The last thing anyone needs is another "Millennium."

…

Expand

The second season of Arrow represents a more confident outing for Oliver Queen and Co. It greatly improves upon the first with stronger

character arcs and a killer performance from Manu Bennett as Slade Wilson aka Deathstroke as the main baddie. While some elements are weak, such as Laurel's character arc and the usual throwaway villain of the weeks, the second season of Arrow is still a delight.

…

Expand

This review contains spoilers, click expand to view. This show doesn't follow the lore. Many of the characters have the wrong names for who they're supposed to be.

Talia is supposed to be Ra's al Ghul's daughter by blood, not Black Canary who is supposed to be named Dinah. Both Ra's, and Talia are Batman characters. Black Canary is supposed to be Green Arrow's love.

Brother Blood is a Teen Titans villain, and leads a cult dedicated to Trigon, an interdimensional demon.

Speedy is what GA calls his sidekick, one of which was Roy Harper aka Red Arrow aka Arsenal.

Deathstroke isn't supposed to be some love crazed psycho. They totally destroyed that character. He's also another Teen Titans villain.

They have so much of it wrong. They even have Harley Quinn locked up at ARGUS, you hear her voice in one episode, and that's yet another Batman villain.

Besides all the misnamed, and out of place characters, they have a Thea Queen character who made me turn off the sound, or fast forward during her scenes. She has to be the most annoying character ever created, and the show would have been a little better had they killed her off instead of Moira. I probably would let out an audible cheer to see her impaled.

…

Expand
Published:

November 8, 2012

The new superhero series "Arrow" is a hit for The CW, and the network's best new show in years. How is it holding up after five episodes? Get the latest impressions from critics and recappers inside.