Network:

NBC

Series Premiere Date:

Oct 2, 2014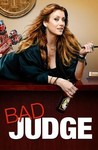 Starring:

John Ducey

,

Kate Walsh

,

Arden Myrin

Summary:

Southern California criminal court judge Rebecca Wright (Kate Walsh) begins to question her life of parties and playing in a band after she meets eight-year-old Robby Shoemaker (Theodore Barnes).

Genre(s):

Comedy
The "Funny or Die" duo makes this zesty, single-camera comedy speak to adults by letting their lead be one.

If the writers can stop laying it on so thick, maybe Walsh will find her way into the role and Bad Judge will have a better shot at entertaining and shocking us.

Walsh throws herself into the part but Bad Judge so far is falling apart around her. It's not terrible, and maybe not even a misdemeanor offense. But it's still guilty of not being all that good.

The original Bad Judge pilot wasn't all that funny, but a show with the guts (and the appropriate channel placement) to go full "Bad Santa" with her as the lead could work very well. Instead, Bad Judge has been noted into oblivion. She's no longer quite so bad, but she's also not anything else. She's just... there.

The pilot is not that funny as it trades in predictable gags about a woman who's competent at the office but a mess in her personal life.

Yes, Walsh's Judge Rebecca Wright is an unapologetic party gal, and a self-described "workaholic freakshow." Yet in the reworked premiere--which has managed to make the show inoffensive, but not good--she's not even really that bad.

A toxic concoction of smarm and schmaltz. ... Bad Judge is the sort of bad TV show that makes you despair of the future of comedy.
This show has a great cast and a funny concept. This trend of "Bad ___" is really growing on me. But this one especially because how often do

This show has a great cast and a funny concept. This trend of "Bad ___" is really growing on me. But this one especially because how often do you hear of a bad judge? And she's not even a bad judge or a bad person. She just is somewhat immature which makes her likable. Kate Walsh does a great job portraying this character and she has great comedic timing. The rest of the actors do just as well. The writing isn't as funny as it could be but just because I'm not laughing every other minute doesn't mean it's not a good show. It is a great show and it has a lot of potential to do even better.

…

Expand

Best show that's been on TV in years. What a hoot! She's a free spirit that does and says the things many of wish we could. It's quirky and

Best show that's been on TV in years. What a hoot! She's a free spirit that does and says the things many of wish we could. It's quirky and refreshing, and although some people may not get it, it's totally relatable to many of us, especially women. No, it's not serious drama so there's no need to over-analyze or nit pick the plot or acting. It's just clever, intelligent (not in the academic sense) fun.

…

Expand

Anyone who thinks that bad judge is not the least bit nice has a random sense of humour. i think this great, watching Kate Walsh on screen

Anyone who thinks that bad judge is not the least bit nice has a random sense of humour. i think this great, watching Kate Walsh on screen again is fun. she is gorgeous and i think if you dont find it funny you can watch it because she is in it. She should act more on leading roles, because watching this show end would be pretty disappointing.

…

Expand

I thought Kate Walsh did a great job.. Shes so likable and its funny as He** to see a person who gets so crazy pull out the seriousness when

I thought Kate Walsh did a great job.. Shes so likable and its funny as He** to see a person who gets so crazy pull out the seriousness when its called for to put people right in there place!

…

Expand

"Bad Judge" is a mess, an utter and complete mess. Not Kate Walsh. Never Kate Walsh. She has the gift. So, bitc*, get with the program. Not

"Bad Judge" is a mess, an utter and complete mess. Not Kate Walsh. Never Kate Walsh. She has the gift. So, bitc*, get with the program. Not the show, but the program.

…

Expand

To be frank, Bad Judge is just terrible. Less comedy and more stupido.
Remember how terrible Bad Teacher on CBS was last spring? Bad JudgeTo be frank, Bad Judge is just terrible. Less comedy and more stupido.
Remember how terrible Bad Teacher on CBS was last spring? Bad Judge on NBC is even worse.
Poor Kate Walsh. This show will be canceled.

…

Expand

There is always a need to suspend logic when watching a sitcom, but this show takes that need to extraordinary heights. Everything in the

There is always a need to suspend logic when watching a sitcom, but this show takes that need to extraordinary heights. Everything in the storyline is forced along with totally improbable events and actions. No one acts even with a little bit of reality. The most obvious and most important improbability is that this woman would be removed from the bench immediately...there is no way she would remain a judge on the bench!

…

Expand