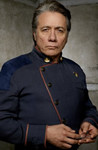 Starring:

Mary McDonnell, Edward James Olmos, Katee Sackhoff

Summary:

The 20-episode third season of the acclaimed series picks up where season two unexpectedly ended: pitting humans against Cylons on the planet of New Caprica.

Genre(s):

Drama

,

Action & Adventure

,

Science Fiction
Show Type:

Ended

Season 3 premiere date:

Oct 6, 2006

Episode Length:

60

Air Time:

10:00 PM
This is a show about religion, politics, parent-child relationships, and the moral dilemmas of insurgency. Consider it a workplace drama where the business is armed resistance.

"Battlestar Galactica" not only lives up to its sci-fi gold-standard reputation but also should be considered straight up as one of television's most appealing dramas, no matter the genre.

Any show that can accommodate decadent cruelty, tragic bravery, and political divisiveness is one you ought to be watching, frakkin' spaceships or not.

[The] third season... provides a[n] unpredictable, fascinating take on events dominating real-world headlines.

"Battlestar" is many cuts above the usual outer-space shoot-'em-up.
Currently, this is without a doubt the best, smartest, most creative show on tv. I feel like I waited forever for the season premiere, and it

Currently, this is without a doubt the best, smartest, most creative show on tv. I feel like I waited forever for the season premiere, and it totally came through. This is going to be an incredible season.

…

Expand

One of the only shows worth watching on television!

I dowloaded BG a few weeks ago on my Ipod during a 3-week business trip to England. All I can say is WOW! This is the best series of

I dowloaded BG a few weeks ago on my Ipod during a 3-week business trip to England. All I can say is WOW! This is the best series of television ever produced. Why it hasn't won multiple Emmy awards baffles the imagination. Shame on Hollywood.

…

Expand

This is one of the best shows out there. The plot is fantastic, incorporating such sc-fi classics as sentient machines, the definition of

This is one of the best shows out there. The plot is fantastic, incorporating such sc-fi classics as sentient machines, the definition of intelligence and Lovecraftian ancient astronauts. The special effects are excellent on the whole, but whatever company does it needs work on it's smoke effects.

…

Expand

Man this show is total crap. They use human cyclons cheep, They use 9mm, they drive humvees and world war 2 6 wheelers come on get real. Then

Man this show is total crap. They use human cyclons cheep, They use 9mm, they drive humvees and world war 2 6 wheelers come on get real. Then they biker and fight so much i don

…

Expand