Network:

HBO

Series Premiere Date:

Feb 19, 2017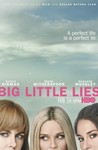 Summary:

The David E. Kelley adaptation of Liane Moriarity's novel of the same name about how seemingly perfect lives of three mothers of seven-years-old children--Celeste (Nicole Kidman), Madeline (Reese Witherspoon) and Jane (Shailene Woodley)--end with someone committing murder.

Genre(s):

Comedy

,

Drama
Season 1 premiere date:

Feb 19, 2017

Episode Length:

60
Thanks to the stellar work of Vallee, Kelley and the top-flight cast, Big Little Lies, like its characters, delivers a high-sheen surface. But, unlike some self-consciously glum prestige TV dramas, Big Little Lies isn't afraid to be entertaining, mixing intimate, dark drama with sly social commentary. It's one of the best shows of this still-young year.

The lessons learned from Big Little Lies won't be as easily shaken. They lie not in discovering the truth, but in searching for it. And this is one damn addictive search.

The basic structure is compelling enough--viewers don't even know who the identity of the murder victim is through much of the series, and the layered performances keep us in flux over who we'd like to kill off, and who we wish would do the killing.

Each story is equally compelling in very different ways, and makes Big Little Lies succeed at being satire about the privileged that doesn't end up cartoonish like Desperate Housewives, even if that's how most of the women of the series might define themselves.

HBO made the first six episodes available for review, and they're all entertaining.

The murder looms over the entire series, which spends most of its time establishing motives. ... All of which will, presumably, be eclipsed by the unveiling of who committed murder most foul, and who got fouled. Thank goodness it's all based on a book, or it might have gone on forever.

The series might have worked better if it let the strong cast make the most of the troubled writing--good actors can elevate tired scripts and, in reverse, tamp down overly dramatic ones. But that Greek chorus of witnesses that props up the construction of the series undermines their work.
Great cast, writing and entertainment. Not sure what all of the fuss is about. This is centered around competing moms and made into a murder

Great cast, writing and entertainment. Not sure what all of the fuss is about. This is centered around competing moms and made into a murder mystery drama. So many complaints around the weak men and it's not a show for guys; if you're to "masculine" for the show then don't watch it. Simple.

…

Expand

'Big Little Lies' knows how to create mystery and keep us hooked on such interesting characters. The ladies steal the show and dominate with

'Big Little Lies' knows how to create mystery and keep us hooked on such interesting characters. The ladies steal the show and dominate with grace, behaving like the camera is their passerelle. This is one of those examples of how to provoke the audience revealing just the necessary amount of information and make us wanting for more.

…

Expand

Note: this is from a guy's PoV. This show is about mommies of young 'uns, so I'm not the target demo. Still, it's so steeped in "momminess"

Note: this is from a guy's PoV. This show is about mommies of young 'uns, so I'm not the target demo. Still, it's so steeped in "momminess" that it can't even qualify as a guilty pleasure. As such, it's just repulsive, for guys, so don't waste your time.

…

Expand

too much mommy BS. Could have been so much better...weak men...cast them aside you have nothing but biachy women. Had to fast forward it got

too much mommy BS. Could have been so much better...weak men...cast them aside you have nothing but biachy women. Had to fast forward it got too dull and regular

…

Expand

David Kelley has written some terrific scripts in the past, but this is really weak. Every moment feels clinched and recycled. And the

David Kelley has written some terrific scripts in the past, but this is really weak. Every moment feels clinched and recycled. And the direction is abominable. With a cast full of remarkable actors, almost every moment feels self conscious and artificial. My condolences to the cast and the capable cinematographer.

…

Expand