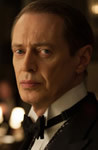 Starring:

Steve Buscemi

,

Michael Pitt

,

Michael Kenneth Williams

Summary:

After a successful election of his pick for Mayor, Nucky Thompson (Steve Buscemi) comes under investigation for voter fraud and soon finds his position tenuous as his family and friends turn against him.

Genre(s):

Drama
Creator:

Terence Winter

Season 2 premiere date:

Sep 25, 2011

Episode Length:

60
Please enter your birth date to watch this video:
You are not allowed to view this material at this time.
It's essential viewing. All of the promise of last season looks to be realized with impressively deft storytelling, beautiful cinematography and impeccable acting.

"Men," of course, remains the King of the Emmys, while Empire nailed the equally prestigious Golden Globe for best drama last winter. But Sunday begins to build the case for Empire, and build it convincingly.

While there are many extraordinary moments in the new season, there's still enough inconsistency that I'm still waiting for it to become the classic drama it so clearly has the tools to be.

It's time to pick a side, and I'm on whichever one the dude with half a face chooses.

The Oedipal quagmire only enhances the political treachery.

Boardwalk Empire loses sight of neither the large nor the small pictures as it moves into season two.

Despite all the attention to detail, or maybe because of it, Boardwalk Empire is a slog. For long periods of time, it's boring, glum, bloodless slog.
I don't know, something seems "off"....

Compared with last year (season 1), this new season seems very slow paced and has thus far, notI don't know, something seems "off"....

Compared with last year (season 1), this new season seems very slow paced and has thus far, not installed any memorable moments in us which is strange as this time last season, the story was going very fast at this stage. Great talent, I just don't think they're using them to the best of their abilities...it seems like a waste of money for everyone to continue like this.....

With only a few episodes left in this season, we need to get the story going full steam or else Boardwalk Empire may not have a long term slot on our TV's. I'll reserve judgment until the season finale.

…

Expand

This season of the always great Boardwalk Empire has more sex, violence, bunga-bunga and unbeliavable events, that it makes Berlusconi look

This season of the always great Boardwalk Empire has more sex, violence, bunga-bunga and unbeliavable events, that it makes Berlusconi look like Pope Francis.

…

Expand

While 1st season was just good and current ~85% score reflects well my opinion, but thanks to 2nd season this series jumps to my my TOP 2

While 1st season was just good and current ~85% score reflects well my opinion, but thanks to 2nd season this series jumps to my my TOP 2 favourite tv series (along with Breaking Bad)

fantastic plot, great GREAT acting, colorful characters. It has simply everything and i cant understand why it is rated so low - even awful TWD season 2 has a better score.

10+/10.

…

Expand

A start to a season which eclipses the finale to the previous one. If the ending to the last season left you feeling a bit cold then the

A start to a season which eclipses the finale to the previous one. If the ending to the last season left you feeling a bit cold then the beginning of this one will leave you begging for more, really fast paced start to this and can only bode well!

…

Expand

incredibly rich milieu of gangsters, politicians and players, from a bygone age, animated by genius and imbued with vitality and immediacy

incredibly rich milieu of gangsters, politicians and players, from a bygone age, animated by genius and imbued with vitality and immediacy once more. simply a time portal to another world.

great season, forever condemned to an 8 by its ending.

…

Expand

I look at this series as a beautifully filmed costume drama. (Gee, I never realized people had so much sex in the 20's. ) Steve Buscemi is

I look at this series as a beautifully filmed costume drama. (Gee, I never realized people had so much sex in the 20's. ) Steve Buscemi is perfectly cast and his transformation from sleazeball politico to out and out gangster is one of the most interesting themes in the show. Michael Kenneth Williams is superb as Chalky White facing moral dilemmas every bit as great as Omar Little's.

…

Collapse

I can't believe this got a second series. I gave up on the first series after about 6 or 7 episodes. It was so boring, the story just wasn't

I can't believe this got a second series. I gave up on the first series after about 6 or 7 episodes. It was so boring, the story just wasn't going anyway, I didn't care about any of the characters. It was well acted, and shot, just the storey line wasn't gripping enough.

…

Expand