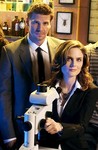 Starring:

David Boreanaz, John Francis Daley, Tamara Taylor

Summary:

Fox's first police procedural is inspired by real-life forensic anthropologist and novelist Kathy Reichs. Its female lead (Deschanel) solves crimes by investigating skeletal remains, aided (or hindered) by her FBI partner (Boreanaz).

Genre(s):

Drama

,

Suspense
Creator:

Hart Hanson

Show Type:

Between Seasons

Season 1 premiere date:

Sep 13, 2005

Episode Length:

60

Air Time:

08:00 PM
Boreanaz and Deschanel stir good chemistry as a crime-fighting duo.

You might think you can't possibly fit one more crime-solving procedural onto an overcrowded calendar, but consider giving Bones a break.

Like CSI and its offshoots, Bones will take viewers to dark and sometimes disgusting places. So, in one sense, Fox may have come up with a format that will reach both men, who love unappetizing scenes, and women, because of the female heroine.

Boreanaz and Deschanel have nice chemistry... but the script also tends to undermine its brighter moments with dialogue that repeats the exposition and the characters' defining traits over and over again.

The scientific setup may be intriguing... But the dialogue, including the contrived sexual tension between Temperance and Seeley, is strictly canned and cutesy.

It's as if we've all passed this way (many times) before and could write the dialogue, act the scenes, predict the outcome all in our sleep.
The character dynamics hook audiences, the dark humor appeals, the cases are well-thought out, and the acting is superb on all aspects.

I love this show, one of my favorites ever! I love how much action there is in it and how real they make the dead bodies look. Every new one I

look forward to. They just keep you waiting till it comes out. The Season Finales are always ending awesome and the season premiers always follow up from the Finales.

An easy 10/10

…

Expand

Excellent show, excellent cast (starting with David B)

Often described as a CSI/X-Files hybrid, this show throws away the most irritating features of those shows. It's actually much closer to

the X-Files, but - fortunately - free of all the supernatural rubbish. The makers of 'Bones' managed to prove that it's possible to keep the X-Files' feel and suspense without calling aliens for help. In fact, it wouldn't be fair to compare dr. Brennan and Booth to Scully and Mulder. The first two seem much more intriguing to me as individuals, and their relationship - which is hard to discuss if you haven't been watching the show for some time - is much more than you'd expect from a typical show's writers. Although 'Bones' is a forensics/procedural show, it doesn't share much with the CSI series. Personally, I hate CSI basic premise: law synonymous with ethics and morality, and the belief that putting people in prison for years for victimless crimes is right. Fortunately, there is no Horatio Caine in 'Bones'. Booth, being a FBI agent, may be loved by the audience, but they're not tricked into thinking all his actions are right. Other things i love about this show? All the characters, of course, most of them subtly and adorably shifted from normality (not unlike me); the show's distinctive (and sometimes black) humor, making it quite light-hearted for a procedural; and the scenes where dr. Brennan shows the true meaning of "free thought" (i can't remember any other show where the protagonist says that cocaine should be sold legally). OK, so what are the weak points of 'Bones'? Well, it's definitely not as visually stunning as CSI (although I love the title sequence). And that may contribute to another problem, which I'd call 'thrill distribution'. The episode opening is usually electifying, and the suspense lasts for most of its 40+minutes, aided by action sequences. But when we get to know who the killer was, it's not really satisfying. Even without event recreations or flashbacks, or retelling (lack of it may count as relying on the viewer's intelligence), it could have been played better. Of course there are exceptions, like when the duo finds the victim alive. But still, I wouldn't date a Miss World if she said CSI is better.

…

Expand

Forensic anthropologist Dr Temperance Brennan (Deschanel) is regularly called in by law enforcement to assist on murder investigations thanks

to her ability to find clues left behind in the victims bones. On one such occasion she is teamed with Special Agent Booth (Boreanaz) who quickly releases just how useful her insights can be in helping him solve cases.

Make no mistake about it Bones falls very much into that most overcrowded of genres, the crime procedural, as each weeks sees the pair solve a new case. The chemistry between the two leads, while not up to that of Castle and Beckett, certainly helps to keep things humorous and generally enjoyable but as is so often happens with this genre the case of the week formula prevents any real plot development over the course of the series. As a result it is difficult to describe Bones as 'must see' TV and, me for at least, will only ever be a show I watch when there is nothing else on.

…

Expand

This is truly a ridiculous show. First, in every episode, the FBI and the "Jeffersonian" get together to solve crimes, but in practically

every single episode, the crime should not involve the FBI, it would be a local police matter. Second, either Emily Deschanel (who plays the titular character) is either an incredibly horrible actress, or she is purposefully playing a character who acts like a robot. In fact, the robot from the 1960's Lost in Space has more personality that "Dr. Temperance 'Bones' Brennan".

…

Expand