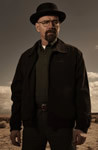 Summary:

Walter (Bryan Cranston) and his friend Jesse (Aaron Paul) find their drug dealing threatened by Walt's DEA Brother-in-law and the local druglord.

Genre(s):

Drama

,

Suspense
Show Type:

Ended

Season 2 premiere date:

Mar 8, 2009

Episode Length:

50

Air Time:

09:00 PM
The first three episodes of Season 2 that AMC sent out continue that level of achievement with no evident missteps.

Breaking Bad is extraordinary, and if the rest of the season matches Sunday, an Emmy nomination for best drama seems certain.

Breaking Bad is indeed so flat-out superb it appears to be operating at a different level than just about everybody else save AMC's own "Mad Men" and maybe a couple of shows over at FX.

Breaking Bad works as an unabashedly bold story about a man in extremis, told with the iconographic and ironic sensibility of Quentin Tarantino.

Smart but never slick, funny but never glib, dark but never (praise all saints and angels) noir, Breaking Bad is actually not another addition to the Brotherhood of the Made Guy formula, it turns out to be the formula's antidote.

Breaking Bad is tougher to watch than Showtime's "Weeds," about a suburban-mom drug dealer, or "Dexter," whose serial killer wields his bloody blades with good intentions. But the rewards of Breaking are great.

The rest of Breaking Bad doesn't consistently reach the level of Cranston's performance. But for some, his depiction of Walt's earnest desperation may be enough.
You cannot predict Breaking Bad... it's impossible. Actually, I've just told a lie, and for that I apologize. You can predict Breaking Bad; in

fact Breaking Bad is so predictable it's embarrassing. Before any given episode has started you can safely predict that what you are about to see is 45 minutes of television that is, in this reviewers opinion, faultless. 45 minutes of outrageous situation comedy with hilarious consequences, 45 minutes of gut wrenching and heart felt emotional drama, 45 minutes of impeccable acting from its two leads, who's on-screen chemistry (excuse the pun) has garnered them with a total of 4 Emmy's, and 45 minutes (im about to come back full circle here) of impossible to predict story lines that make the twists and turns in shows like Lost and Fringe genuinely feel like amateur hour. Season 2 doesn't let up for one second. There is no 'filler' here, none whatsoever. And in all honesty, hand on heart, having thought it through thoroughly, looked back at my favourite (almost immoveable) series from shows that are close to my heart, I might have to declare Breaking Bad season 2 as the best season of a tv show I have seen to date. I know that's a bold statement, but having sat through all 13 exquisitely put together episodes, it just makes sense to have that opinion, it really does.

…

Collapse

I was so hooked threw the whole season. I love the meth name Heisenberg for some reason. But the chemistry and acting and writing and

characters are even better this time around. Watching the decline of the characters of Walter White & Jesse Pinkman is so interesting. Still on season 4 and i saw the last episode but i still love catching up to that point. Best show ever.

…

Expand

Breaking Bad is an awesome show! I love it and suggest it to everyone who hasnt seen it yet. It beats Dexter in best Drama in both my heart

and with the emmy count. Breaking Bad has great actors, who play awesome characters, in a great story. Keep it up Breaking Bad.

…

Expand

This is the best show that's not on a pay channel. The performances are damn near flawless. Emmys anyone?

A lot better this season but what is scary about this show is that its this good and still has yet to reach it's peak. It was a little

predictable at times though and a little boring as well but it still kept you interested and it just has that addictiveness to it. Cranston once again steals the show and proves why he is easily the best actor on TV.

…

Expand