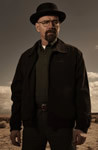 Starring:

Bryan Cranston

,

Bob Odenkirk

,

Anna Gunn

Summary:

The final season for the award-winning drama begins it's first run of eight episodes, with the remaining eight episodes airing in summer 2013.

Genre(s):

Drama

,

Suspense
Creator:

Vince Gilligan

Season 5 premiere date:

Jul 15, 2012

Episode Length:

50
Please enter your birth date to watch this video:
You are not allowed to view this material at this time.
A show that manages year after year to accomplish that rare blend of Hollywood darling and fan favorite.

Series creator Vince Gilligan wrote the first two episodes of this eight-episode batch, and they crackle, as always, with intelligence and an ever-lingering sense of dread.

Breaking Bad [is] a radical type of television, and also a very strange kind of must-watch: a show that you dread and crave at the same time.

It wants to entertain you, to draw you in with exciting, exacting plotting, and precisely drawn characters.

Breaking Bad continues at the same disciplined, regimented pace, fussing over small details and picking at new threads, even with the end looming.

The arc of this character--series creator Vince Gilligan's invention of Walter White as a sick soul--is, it's clear now. one of the great narratives in Television histpory. [13 Jul 2012, p.62]

After some demented inspiration from Jesse (Aaron Paul), Walt launches a caper so audacious, it's almost comical.
Yeah b*tch! Breaking Bad: Season 5 is the best in the series where everything that happens before hand leads up to the ultimate climax we have

Yeah b*tch! Breaking Bad: Season 5 is the best in the series where everything that happens before hand leads up to the ultimate climax we have been waiting for. This season delivers the most memorable moments, performances, writing, action, and everything else in between. Upon initial viewing of the finale I wasn't sure how I felt about it, but as I think about it more and more I come to realize that it delivers the absolute perfect ending to this masterpiece of a series. The ending is both ironic and satisfying, as it doesn't end exactly how you might expect but wraps up each character perfectly. The final shot and song choice - pure gold. I haven't watched a lot of TV and can't believe I didn't get around to watching this sooner, because Breaking Bad has to be one of the greatest TV shows ever created. If you haven't seen it by this point you're probably saying to yourself, "I should watch it then". Well guess what? You're goddamn right.

…

Expand

E foi aqui, em sua quinta e última temporada que Breaking Bad se tornou a melhor série de TV que eu já vi em toda minha vida. Cada episódio

E foi aqui, em sua quinta e última temporada que Breaking Bad se tornou a melhor série de TV que eu já vi em toda minha vida. Cada episódio uma "season finale".

…

Expand

The acting? Amazing. The screenplay? Outstanding. The twists, turns and nail-biting suspense that the show is known for? Yes ma'am. Breaking

The acting? Amazing. The screenplay? Outstanding. The twists, turns and nail-biting suspense that the show is known for? Yes ma'am. Breaking Bad is back, and it's better than ever.

…

Expand

How could you not give it a 10? It's a struggle to find flaws in this seemingly flawless masterpiece. The exceptional acting goes above and

How could you not give it a 10? It's a struggle to find flaws in this seemingly flawless masterpiece. The exceptional acting goes above and beyond that of most movies today, and the writing is on par with the genius of Lucas, Abrams, Cameron and Speilberg, radiating excellence, always. Television would be bland without this piece of art!

…

Expand

Excellent series, from beginning to end. I have seen many series such as The Sopranos, The Wire, The House of Cards, Lost, Homeland, Boardwalk

Excellent series, from beginning to end. I have seen many series such as The Sopranos, The Wire, The House of Cards, Lost, Homeland, Boardwalk Empire and several others I can not remember, but I must say Breakin Bad has been the best series I've seen so far, beating the rest I just mentioned and many other more.

…

Expand

I started watching Breaking Bad one weekend, and didn't stop until I had caught up. It is probably my favorite show of all time. Unlike many

I started watching Breaking Bad one weekend, and didn't stop until I had caught up. It is probably my favorite show of all time. Unlike many shows of lesser quality, it is truly unpredictable, and I rarely find myself beating the show to the punchline. The acting is amazing, the writing is amazing, it's just an amazing show. Although I cannot wait for the second half of season 5 to come out, it will a bittersweet arrival, as it will mean the end for one of the best shows on television.

…

Expand

I watched Breaking Bad for about 10 minutes before I got bored and turned it off. This is quite possibly the worst tv show I have ever seen. I

I watched Breaking Bad for about 10 minutes before I got bored and turned it off. This is quite possibly the worst tv show I have ever seen. I eever seen. I even tried going back to watching it last year and got bored again in episode 11 and it sucked so bad that I stopped watching.

…

Expand