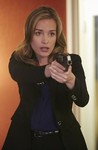 Starring:

Kari Matchett

,

Christopher Gorham

,

Hill Harper

Summary:

Annie Walker (Piper Perabo) is suddenly picked from her CIA training class for her first field assignment.

Genre(s):

Drama

,

Action & Adventure

,

Suspense
Please enter your birth date to watch this video:
You are not allowed to view this material at this time.
But it's Perabo, as an endearing overachiever who thinks on her well-shod feet, who makes Covert Affairs such an entertaining ride.

It's perfect summer television--just turn off the excess brain cells and let Agent Walker do the seduction, and the shooting, for you.

The pilot rumbles forward on crisp action and light-hearted humor, while hinting at higher stakes that offer room for narrative growth. While easily dismissed as another "Alias" (like Jennifer Garner, Perabo can do wonderful things to a simple skirt and heels), the show also makes clever use of Walker's newbie status.

Covert Affairs (could there be any title that sounds more like being stuck at the airport with nothing to read?) at least does us the favor of introducing storylines that transcend the usual case files.

The series is fun, slick and fast, but cheesier than it needs to be.

USA promises "characters," and Annie Walker is all of that. She just once in a while maybe needs to go with decaf.

What it does have is a sleek but shallow cast that cannot lend any weight to the lighter-than-air writing.
In so many words, really uplifting show. This series will become one of your favorites if you love spy stories and comedy entwined. Brilliant

In so many words, really uplifting show. This series will become one of your favorites if you love spy stories and comedy entwined. Brilliant and believable acting, great writing. Some stories may seem over the top but they manage to keep us tuned.

…

Expand

Truly enjoyable. Fun and exciting, clever dialogue, great timing, excellent acting and just such a refreshing show. The main characters' good

Truly enjoyable. Fun and exciting, clever dialogue, great timing, excellent acting and just such a refreshing show. The main characters' good chemistry is palpable.

…

Collapse

Although unrealistic to the typical day at the CIA, the characters are easy to relate with and very entertaining. Christopher Gorham's

Although unrealistic to the typical day at the CIA, the characters are easy to relate with and very entertaining. Christopher Gorham's depiction of a blind CIA agent makes you love him even more and the witty comments swapped between characters leave a smile on your face. All in all, a great show, that is perfect for a summer drama series. Hopefully it sticks around for a long time.

…

Expand

Sexy, hip, fast, and fun. And shallow. Like a fun summer romance. This show reminds me of a pop ballad performed by a rock group: critics

Sexy, hip, fast, and fun. And shallow. Like a fun summer romance. This show reminds me of a pop ballad performed by a rock group: critics hate it because it panders to the teenage masses while suffering in true artistry and creativity. It seems like the stories are written backwards, that the writer figures out where to end and goes backwards to the beginning. Refreshing characters (we love Auggie, anything with Peter Gallagher ... and holy smoke, where did Kari Matchett come from, and where has she been all my life?!). The plots are a bit clunky and most notably the relationship between Annie and her sister is utterly and dreadfully not believable. Too many long chase and fight scenes, not enough true drama and intrigue. But this show is on our TIVO "must record" list and we can't wait for new episodes - it's fun, exciting, adventuresome, sexy, hip, full of characters and relationships that are intriguing and leaving you wonder who to trust. Fun show, worth looking forward to, but not the most intelligent/provocative show you'll see in this genre.

…

Expand

Oh, what will Annie do next? She'll most likely break some sort of CIA protocol while ignoring an order and still manage to save the day with

Oh, what will Annie do next? She'll most likely break some sort of CIA protocol while ignoring an order and still manage to save the day with the help of her blind friend. Oh, yeah, and don't forget about Ben, the rogue agent, who is nothing like Annie. He'll pop up with another dilemma that forces Annie to choose her trusted CIA or the man who she has spent three weeks with. Hmmm. What will she do? I think we already know.

…

Expand

Fantastic cast but familiar story. Does anybody honestly believe the C.I.A. are the good guys anymore?

saw the show - loved the story - cant watch anymore because the lead lady is so annoying by flipping her hair constantly. why does she insist

saw the show - loved the story - cant watch anymore because the lead lady is so annoying by flipping her hair constantly. why does she insist on doing that?

…

Expand