Network:

USA

Series Premiere Date:

Nov 7, 2017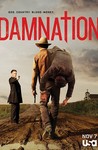 Summary:

Seth Davenport (Killian Scott) is biding his time in the guise of an Iowan preacher to start an insurrection while a strikebreaker named Creeley Turner (Logan Marshall-Green) is hired to stop any revolt by the townspeople in this 1930s drama created and written by Tony Tost.

Genre(s):

Drama
Season 1 premiere date:

Nov 7, 2017

Episode Length:

60
Bleak and nasty, Damnation brings a "Mr. Robot" vibe to the Depression era, wrapping class warfare and hostility toward wanton capitalism in a drab, dusty package. The result is a bracing look backward informed by present-day parallels, in another show that feels like an outlier for USA -- one that should have critical admirers but might struggle to satisfy TV's capitalist demands.

It's often predictable and to the grimdark end of the Quality Drama tonal spectrum, but the period itself is fairly novel (Carnivale was over a decade ago), and it plays its familiar tunes with brisk competence.

But still, slow-moving and enamored of its own darkness as Damnation is, there's something vital and real in the show's insistence that the United States' institutions have failed and are only looking out for themselves.

Damnation spends so much of its early going caught in a spiral of misdirection that once the emphasis on bloodshed, doom, and duplicity wanes, a series with sharper insights might emerge. But in its current form, it's a punishing watch, one with not much more to offer than an animalistic view of human nature.

A lot of Damnation feels an awful lot like homework or worse: homework you're forced to do on the sly while sitting in church listening to a sermon.

Damnation is indisputably a good-looking show, and I think it has some things on its mind, though I wish the script had allowed the show to go more aggressively into the Man vs. Bank gear executive producer David Mackenzie brought to Hell or High Water. It's hampered by being a series that keeps its attentions most frequently honed on the aspect that engages me the least.

It's too often dull, tonally inconsistent, and just poorly written.
The first episode has me hooked. It's a great contrast to all the crap shows out there pushing crap designed to brainwash us. I love old

The first episode has me hooked. It's a great contrast to all the crap shows out there pushing crap designed to brainwash us. I love old things and simply watching makes me appreciate all the antiques I have built up over the years.

…

Expand

Damnation deserves a 2nd season, at least. I will be recommending this program to family and friends as a must watch. Well acted, good

Damnation deserves a 2nd season, at least. I will be recommending this program to family and friends as a must watch. Well acted, good storylines, great camera work. I think the critics need to lighten up, or is the storyline too close for comfort.

…

Expand

after 5 episodes i can say this is Games of Thrones of 1929. Very tense and keeping the trill.

Após 5 episódios posso dizer que este é oafter 5 episodes i can say this is Games of Thrones of 1929. Very tense and keeping the trill.

Após 5 episódios posso dizer que este é o Game of Thrones de 1929. Muito tenso e mantendo o espectador com as unhas fincadas no sofá.

…

Expand

Not a pretty era nor location: The depression in western Iowa. Its easier to turn it off than to watch it but if you leave the remote where

Not a pretty era nor location: The depression in western Iowa. Its easier to turn it off than to watch it but if you leave the remote where its sitting you'll be treated to a superlative dramatic presentation whose plot is as intricate as any and whose message rings true today. Pairing Logan Marshall Green with Killian Scott as two opposing brothers seeking absolution for past sins is not only effective but stimulating. They have chemistry. Damnation definitely deserves a second (and third) season.

…

Expand

He descubierto una joya. Un cura revolucionario ayudando a granjeros a luchar contra el banco
local y una subtrama muy fuerte, ambientada enHe descubierto una joya. Un cura revolucionario ayudando a granjeros a luchar contra el banco
local y una subtrama muy fuerte, ambientada en los años 30's en EEUU. Política,
venganzay tiros, pocas cosas más se le pueden pedir.

…

Expand

Bemused by the negative reviews. The labor movement serves more as a backdrop for this grim 1930s Western. It is primarily a revenge story,

Bemused by the negative reviews. The labor movement serves more as a backdrop for this grim 1930s Western. It is primarily a revenge story, and taken on that level works pretty well. There is enough social consciousness here to make you feel the main characters stand for something, in the same spirit as Suits. It gets a little bit too complicated for its own good but the characters are compelling and so far (5 episodes) has been fun to watch.

…

Expand

Good costume and set design to really put you in the time and place of history, however the story and characters are wooden and dull. The

Good costume and set design to really put you in the time and place of history, however the story and characters are wooden and dull. The gunshot effects are done really well but there is no feeling or intensity behind them i couldn't care less about any of the characters. Seemed to be wanting to push an obsolete political agenda with the narrative unless the main characters are supposed to be fanatically misguided and bad so nobody to look up to in this? Very wooden no feeling, Nothing gripping

…

Expand