Network:

Syfy

Series Premiere Date:

Jun 19, 2014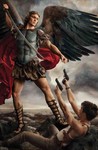 Starring:

Anthony Stewart Head

,

Alan Dale

,

Roxanne McKee

Summary:

The series based on the 2010 movie Legion is set 25 years after the "Extinction War" between angels led by archangel Gabriel (Carl Beukes) and mankind--with Archangel Michael (Tom Wisdom) on humanity's side. In the city of Vega (previously known as Las Vegas), two families battle for control

The series based on the 2010 movie Legion is set 25 years after the "Extinction War" between angels led by archangel Gabriel (Carl Beukes) and mankind--with Archangel Michael (Tom Wisdom) on humanity's side. In the city of Vega (previously known as Las Vegas), two families battle for control as the journey of a young soldier named Alex Lannen (Chris Egan) may change this new world.

…

Expand

Genre(s):

Fantasy

,

Science Fiction
Creator:

Vaun Wilmott

Season 1 premiere date:

Jun 19, 2014

Episode Length:

60
Please enter your birth date to watch this video:
You are not allowed to view this material at this time.
Dominion is dark, and the angels portrayed here are scary--not the heavenly do-gooders we've come to know them as through other media. Based on the pilot episode, good has a long way to go before it can overcome evil--if that's even possible.

Dominion will never be confused with sophisticated TV but in its pilot episode, the only episode made available for review, it's surprisingly more entertaining and a better yarn than plenty of other Syfy efforts.

It still has a lot of work to do, but with care, Dominion has the potential to grow into something special.

SyFy routinely demonstrates that today's tricks have gotten too easy, which is why Dominion feels like it is unintentionally telling a separate story of a world in which humanity is held captive by quickie CGI.

When Dominion isn't preoccupied with filling in its portentous back story, it provides some capably filmed action and a higher grade of acting than usual for this kind of show.

Nothing on this futuristic landscape stands out: the performances, the dialogue, the direction, the special effects. The premise is solid enough. Yet everything constructed on this foundation seems to have been fashioned from nothing more substantial than cardboard.

Syfy's latest drama, Dominion, may be one of the dumbest, worst-acted, most poorly written series I've seen in ages. In no way should this encourage you to tune in hoping to rubberneck this bit of awfulness in hopes of creating some kind of new drinking game.
this is a case of critics being beguiled by there jobs and seeing too much entertainment, most of them seem to forget what makes a show good.

this is a case of critics being beguiled by there jobs and seeing too much entertainment, most of them seem to forget what makes a show good. 1 is the world and story immersive CHECK, 2. do the characters seem likeable and interesting CHECK 3. does the story develop into something deeper throughout the pilot CHECK, 4 does it visually look appealing check, IS IT FUN TO WATCH CHECK, left me at the edge of my seat and what a GREAT cliffhanger, the critics need to lighten up, this show had an amazing pilot, most shows need a couple episodes to develop and become interesting, but this got me right from the start

…

Expand

Great can believe it almost thought it would be crap but WOW was blown away at how the complex it is and how much I want to know where it is

Great can believe it almost thought it would be crap but WOW was blown away at how the complex it is and how much I want to know where it is all going, great casting as well. Joined metacritic just to write this review as to many good shows dont make it so am joining the reviewers in the hope that these influence the networks. In summary if you like supernatural/star trek like stuff and dont get bogged down in a complex plot you'll love this.

…

Expand

I'm really liking this show. Love how it's based on the Legion movie (which I loved too). Not as scary but suspenseful and interesting.

I'm really liking this show. Love how it's based on the Legion movie (which I loved too). Not as scary but suspenseful and interesting. Better than all the reality tv crap that is out there right now and getting overloaded with the cops or crime shows. I hope they keep this show going.

…

Expand

kinda in love with the porn wings and Michael, oh god he's so hot. And Gabriel? he's creepy. But since I don't have a high expectation for

kinda in love with the porn wings and Michael, oh god he's so hot. And Gabriel? he's creepy. But since I don't have a high expectation for Sci-fi shows at first place, it is somewhat better than I first thought,

…

Expand

This is a interesting show. I would like to see it continues on to Season 2 at least. I like the actors but I feel that the hero is a little

This is a interesting show. I would like to see it continues on to Season 2 at least. I like the actors but I feel that the hero is a little overshadowed by the angels.

…

Expand

Now here is a show which is interesting and not slow at the same time. It keeps you on the edge for most of the time.
Includes Action,Now here is a show which is interesting and not slow at the same time. It keeps you on the edge for most of the time.
Includes Action, Suspense And a lot of thrill.
The 1st episode is enough to keep you Eagerly waiting for the next one.
Go ahead give it a try you wont be disappointed.

…

Expand

Legion was a good movie, perfect cast and great story line. The show Dominion is stupid, it could of been so much better if the writers

Legion was a good movie, perfect cast and great story line. The show Dominion is stupid, it could of been so much better if the writers sticked to the original story line.

…

Expand