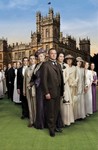 Starring:

Dan Stevens

,

Rob Collier

,

Phyllis Logan

Summary:

Season two begins in 1916, with heir Matthew Crawley fighting in the Battle of the Somme while the staff at Downton tries to keep things as they were before the war, even as the estate serves as a military rehab center.

Genre(s):

Drama
Creator:

Julian Fellowes

Season 2 premiere date:

Sep 18, 2011

Episode Length:

60
Please enter your birth date to watch this video:
You are not allowed to view this material at this time.
Julian Fellowes has created such a vivid group of characters and assembled such an impeccable cast--effortlessly oscillating from comedy to drama--that the hours fly by, addictively pulling viewers from one into the next.

The emotional authenticity of Downton Abbey continues to make it a classic.

The series seamlessly moves between the horrors of war and the gentility of life in the show's titular 100-room manor.

Despite all the repetition and longueurs, this Downton Abbey frequently works, as the first one did, as a peppery little trifle.

Appropriate to the pace and the space of series television, it welcomes you into its intrigues at a walking pace.

Luckily the characters are so fully formed, and so fully inhabited by the cast, that the whole mess staggers up out of the trenches and keeps going. [9 Jan 2012, p.39]

Downton Abbey lacks surprise and is stretched precariously thin, a house full of fascinating people with not nearly enough to do, all caught in a loop of weak storylines that circle round but never fully propel.
I've never liked a period drama before, but this got such good reviews, I thought I'd give it a try. I'm so glad I did! I watched both

I've never liked a period drama before, but this got such good reviews, I thought I'd give it a try. I'm so glad I did! I watched both seasons over the course of four days, and now I just want more. It's written incredibly well. There is SO much dialogue, but it's all worth hearing. Little quips here, wise advice there, etc. The music is also spectacular. I'm of the belief that a show without good music loses some of its emotion, but the music is present in this show, and it's beautiful. And of course, no show is any good without great characters, and I must say, every character shown on the box is fleshed out realistically, and plays a large role in the story. This show is certainly not for everyone, but it's at least worth a viewing.

…

Expand

Downton Abbey, is simply delicious to watch, a sweetness in this cruel world. I like everything in this series, the characters, the costumes,

Downton Abbey, is simply delicious to watch, a sweetness in this cruel world. I like everything in this series, the characters, the costumes, the period, a great success as the first season.

…

Expand

I thought Season 1 was a 10, but, after viewing the first episode of season 2, am giving this season a 9. Season 1 went to great depths to

I thought Season 1 was a 10, but, after viewing the first episode of season 2, am giving this season a 9. Season 1 went to great depths to show the different manners, customs, technology, etc that existed in the English countryside in 1914. I felt like a voyeur at times, getting a special glimpse into the lives of everyone at Downton Abbey. I was in awe after each episode.

While I thoroughly enjoyed this episode, it did NOT transport me back to another place in time. Instead, it felt more like a family reunion where you get to catch up on what everyone's up to. Still, it was fun getting all the updates, and I will certainly tune in again next week!

…

Expand

Good acting, crisp direction and editing. It is very well done. The only fault I find with it is that it is too unfocused and resorts to

Good acting, crisp direction and editing. It is very well done. The only fault I find with it is that it is too unfocused and resorts to making Mary and Matthew behave absurdly to create the main conflict. The characters then seem less real and more like instruments of contriving the plot.

…

Expand

Okay - perhaps it's a bit early to review this one yet, but my initial feeling after seeing the 1st episode of the 2nd season is a happy one.

Okay - perhaps it's a bit early to review this one yet, but my initial feeling after seeing the 1st episode of the 2nd season is a happy one. Downton Abbey does have characters and story-lines and twists that we have all seen before many many times - in books, in films and in television period dramas, but it delivers them to us in such glorious packaging and in such beautiful surroundings that we can kid ourselves that it is all so new and original. Oh - and Maggie Smith is a delight as usual.

The 1st episode held my interest, made me laugh, and it brought a tear to the eye. So far, so good. If it turns out bad, I'll come back and edit this - but I am fairly confident that I won't have to.

…

Expand

i'm almost embarrassed to say i not only watch but ENJOY this show. its unmistakably british in its pomp and aristocracy reflecting what is

i'm almost embarrassed to say i not only watch but ENJOY this show. its unmistakably british in its pomp and aristocracy reflecting what is now happening to the widening gap between social classes in the rest of the world. old lady grantham is epic and i sit on the edge of my seat waiting for her to mutter something socially unacceptable but brutally honest. good casting, writing, sets and wardrobe (whatever its called in the movie industry)... overall a good show you can easily get hooked on.

…

Expand