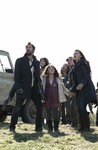 Summary:

Season Three picks up seven months after the end of Season 2 with Tom elected the leader of Charleston as the resistance continues to battle invaders from other worlds.

Genre(s):

Drama

,

Action & Adventure

,

Suspense

,

Science Fiction
Show Type:

In Season

Season 3 premiere date:

Jun 9, 2013

Episode Length:

60

Air Time:

10:00 PM
The humans are still mostly good guys. Their dilemmas and antics--including blowing up a nuclear plant and giving birth to an infant who can stand up in her crib a few hours later--remain fun to watch.

While this sci-fi lark is essentially just another cog in TV's annual invasion of mindless summer escapism, as we've seen time and again, capturing that tone and feel isn't nearly as easy as it looks--one reason it's nice to see Wyle and company soldiering on.

It's hard enough keeping track of the aliens in Falling Skies, but the first few episodes introduce so many new challenges and mysteries it makes my head hurt thinking about them.

When Falling Skies is clicking, it remains a very entertaining show that fills a niche.
Falling Skies sustains its momentum that the series generated over two seasons. In season three, you will spend a little less time watching

massive alien battles and invest more deeply in the characters that you've spent the past couple years getting to know something I felt the first season lacked heavily on. If you've been watching this show for two seasons, there's no reason to shy away from its third. There's room to grow, but unlike heavy CGI-dependent shows like Tera Nova which saw the axe after a season or two, Falling Skies has enough weight behind it to carry on. One can only hope that the teams working to move this series along can only achieve greater heights and drive this show to the next level of excellence. There's so much potential that has yet to be tapped a great sign for a show that's already good as-is.

…

Expand

Great show. There is some bad acting here and there, but nothing big. This show is like the Walking Dead, but with Aliens. The Story is not

bad, but there was one episode that waist my time. You should check it out if you love the Walking Dead, post-Apocalypse theme, and aliens.

…

Expand

Falling skies is a preview of post apocalyptic life under the thumb of Chairman-O but with much more entertaining, over the top, budget

sucking CGI

#ThePeoplesCUBE

Production qualities in Season THREE take a dip as with staging with a loathsome limit of TEN EPISODES per season mocking the ability of capitalism.

…

Expand

As charming as the show has been, season three just falls way short of expectations. It felt like it had a new set of writers that wasn't

quite sure how the Falling Skies formula works. The setup to Season 4 is interesting, the show felt like it became a caricature of itself in S3.

…

Expand

I watch this show as a comedy because it is so bad. The show makes literally no improvements over the last season and it is so stupid. I love

making fun of this show. I watch to just see how bad it is.

…

Expand

I am a sci fi and horror addict. I stopped watching this show because it was boring and PREDICTABLE! In my head, I knew what was coming next

and, sure enough, it did. UGH!!! This show is pathetic.

…

Expand

Everything that was bad about this show got worse, still. Incredible as it may seem, they managed to make utterly pointless nonsense even more

utterly pointless, except where they just kept it as pointless as it was. The humans are still fighting with weapons that two seasons ago they found out were pretty much completely useless. Almost every single character fails to convey the idea that he is a thinking organism who's neural setup does more than just regulate air intake, heartbeat and digestion. The stupidity shown in the show is simply unbearable.

…

Collapse
Summer will bring some of TV's best shows (including "Breaking Bad" and "Louie," and--possibly--new shows like "The Newsroom"). Inside, we look at the 20 most noteworthy series, specials, and miniseries coming this summer. You'll also find a full calendar of premiere dates from now through August.