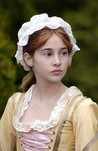 Starring:

John Schneider, Shailene Woodley, Kevin Zegers

Summary:

This original family drama--set during the American Revolution--is, as the title implies, based on one of the ever-popular American Girl dolls.

Genre(s):

Drama

,

Kids
Show Type:

TV Movie

Season 1 premiere date:

Nov 29, 2005

Episode Length:

120

Air Time:

08:00 PM
As with all the "American Girl" stories and telefilms, "Felicity" makes history come alive in a compelling way for young viewers.

It's heartwarming, it's sweet, and it's just the ticket if you, too, happen to be a 10-year-old girl or the parents of one.

It's a better film than a viewer, and certainly a parent, could expect from a movie based on an 18-inch piece of plastic.

I suspect that if I were a 10-year-old girl -- which I'm not -- I would love this film... That being said, I can still recommend the movie because, despite some sugary-sweet moments,... [it] isn't condescending to its young target audience and actually has some bite to it.

Even if this strikes a cynical adult as too syrupy-sweet, it's refreshing to have a too-nice role model.

For all the predictability of its tomboy-loves-horse plotting, "Felicity" does at least serve up a WB heroine who's not about to have her head turned by some boy.
I love ag and this movie is exactly what I expected all of you should now watch Samantha's movie. It came out last year.

The film's a bit slow-paced and boring at times, but Shailene shined out in her role as a colonial girl in this TV movie. Definitely a

must-watch for the kids.

…

Expand

Heartwarming and engaging. Beautifully acted and produced.

Shailene Woodly Rocks she is awsome

My girls loved it and so did I!! John Schneider is STILL hot!!!

Bland family entertainment at its mildest. Not a bad movie just nothing out of the ordinary. Very slow as well..