Network:

DirecTV

Series Premiere Date:

Oct 9, 2013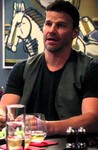 Summary:

In the Neil LaBute's series, at the restaurant called Ellipsis, two diners, beginning with Bridgette (Minka Kelly) and her lover Tim (Tom Felton), talk about their lives and relationships. Each subsequent episodes introduces a new character connected to one in the previous episode. Future

In the Neil LaBute's series, at the restaurant called Ellipsis, two diners, beginning with Bridgette (Minka Kelly) and her lover Tim (Tom Felton), talk about their lives and relationships. Each subsequent episodes introduces a new character connected to one in the previous episode. Future guests include: Julian McMahon, David Boreanaz, Keke Palmer, Devon Gearhart, Billy Campbell, Kate Walsh, Noah Silver, Ally Sheedy, and Cheyenne Jackson.

…

Collapse

Genre(s):

Drama
Season 1 premiere date:

Oct 9, 2013
The result self-consciously approximates the feel of a stage play--a trifle theatrical and showy, admittedly, but nevertheless oddly addictive as you wait to see how one story will bleed into the next.

Over 10 episodes, as these characters' lives intertwine, LaBute delivers a deeper meditation on the way people use each other, whether or not they're picking up the check.

There's an airlessness to Full Circle that vacuum-packs these performances but leaves little real life.

It's an interesting construction; "La Ronde"-style storytelling is not something seen regularly in prime-time so for the uniqueness of the form viewers can be grateful. But the same setting and two-character focus in every episode makes for a somewhat stifling viewing experience compared to the typical prime-time drama.

The turn and turn again structure is definitely appealing, albeit a bit self-conscious. The cast is terrific and LaBute knows his way around dialogue.... But watching guys hand-feed their inner cavemen from the table is not nearly as much fun as LaBute seems to think it is.

Too many of the other characters' crises seem boilerplate, giving the whole enterprise the feel of a condensed soap opera or an exercise from a playwriting class.