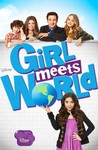 Starring:

Danielle Fishel

,

Ben Savage

,

Corey Fogelmanis

Summary:

The sequel to ABC's Boy Meets World finds Riley Mathews (Rowan Blanchard), the daughter of Corey (Ben Savage) and Topanga (Danielle Fishel), about to start 7th grade with her best friend Maya (Sabrina Carpenter).

Genre(s):

Comedy

,

Kids
Disney should be sent to detention for passing off such aural plasticity [laugh track], unfairly fouling the repute of the live-audience sitcom. But the rest of Girl Meets World does its job of bringing tween-based family viewing into the 2010s.

Replicating the beats of that previous show isn't as important to Girl Meets World's potential for success as reviving the spirit of its inspiration. It's there in measured doses in the pilot, bolstering the broader jokes, staged performances from child actors, and requisite feints toward classroom puppy love.

A cute half-hour that capably introduces new characters and sets the table for the new series.

Girl Meets World does improve significantly after the pilot, but it has yet to recapture the warm spirit that made Boy Meets World shine. [27 Jun 2014, p.58]

It has more of the feel of a traditional family sitcom than the louder, jokier competition on Nickelodeon, but the humor is still pretty broad and the plotting blunt for anyone outside that age group.

Girl Meets World is hammier than a Smithfield Foods factory.
It is important to remember you cannot rate an ENTIRE season based on one pilot. I still enjoyed this pilot, and it definitely lives up to the

It is important to remember you cannot rate an ENTIRE season based on one pilot. I still enjoyed this pilot, and it definitely lives up to the original. Also, I have seen the next episode on the watch disney app, and it was even better than the first. So I will stick around, because it is good, even though it is not a BMW remake, it is its own series that WILL stand on its own.

…

Expand

This show is amazing. I've never laughed so hard!!!! Also, it provides inspiring moments for teenage kids. And the song is amazing also!!!

This show is amazing. I've never laughed so hard!!!! Also, it provides inspiring moments for teenage kids. And the song is amazing also!!! WATCH THIS SHOW!!!!

…

Expand

This review contains spoilers, click expand to view. My theory is that if you hate it, don't comment. Certainly don't insult. Professional reviewers (as opposed to critics) loved Rowan's performance.

I love it. It captures the spirit of BMW. Like that series this one allows the kids to discover truth and how the "world" works guided and pointed by their parents. It feels good all the way through.

And while the line "Well done, Mr. Matthews," is poignant, what is left unsaid, though it is very apropos, "Well done, Ms. Matthews."

…

Expand

Girl Meets World it's one of the finest Disney series ever. Such a teenage feeling to a grown up one, Riley's ordinary life identifies most of

Girl Meets World it's one of the finest Disney series ever. Such a teenage feeling to a grown up one, Riley's ordinary life identifies most of us and with Maya it's just pure gold. It's one of the few series that has almost everything, friendships, love, hilarious moments, dramatic ones... wow it's just unique

…

Expand

When I first heard about a sequel to BMW coming to Disney Channel, like many others I had my concerns. I was afraid that it would follow too

When I first heard about a sequel to BMW coming to Disney Channel, like many others I had my concerns. I was afraid that it would follow too close to the current pattern of live Disney Channel Shows which personally have not always been my cup of tea, mostly due to less-than-par writing, over-the-top characters serving as weak role models and usually unappealing plot lines. I may be an adult and I know these shows are not meant for me, but I know damn well they can do way better with their shows and this is where I feel that GMW steps in, or at least is on its way to.

I have watched every episode thus far and have made a few conclusions; the first is that this is a great cast. Not just the return of Ben Savage and Danielle Fishel, but the kids are incredibly likeable and while they do mirror their predecessors, they are able to stand alone and don't feel like carbon copies. Rowan and Sabrina prove to have a great kinship that puts the bonds on other Disney Channel shows to shame. Is it cheesy and crazy at times? Of course, so was BMW, which I can appreciate and anyone who watched BMW from the first season would see that too.

Now the one downside that I feel about GMW is how it is so "moral-driven." Now, it's common knowledge that good kids shows will try to make the viewer learn a lesson and great kids shows can do it in a way that is smart and subtle. GMW ain't subtle. It has gotten better since the pilot episode, but the writers need to trust in their audience that they will understand what is going on without it being explained right at the beginning of the episode and then over and over again within the half-hour time span. It makes the characters seem so self-aware of the issue that they will address in each episode that it doesn't come off as natural. It's clear that the writers are trying so hard when in reality they don't have to. People may try to chalk that up to the acting, but really if the dialogue was written with less exposition in mind and allow the characters to speak a little more in the way real kids would, then I think that GMW could be the triumphant and worthy successor that we have all been waiting for.

I do hope that with time, GMW will find its own place in the world like BMW did because it truly has the capacity to be great.

…

Expand

I wasn't born when they started but when girl meets world started i wanted to see where it all started. i watched boy meets world on my phone

I wasn't born when they started but when girl meets world started i wanted to see where it all started. i watched boy meets world on my phone and it was awesome. Now that i'm watching girl meets world it seems like they're trying to hard to prove a point and teach us something it's ok but don't try to hard that's all i'm saying

…

Expand

I loved the show "Boy Meets World" when I was a kid. This equivalent show "Girl Meets World" is not what I was expecting. I waited months to

I loved the show "Boy Meets World" when I was a kid. This equivalent show "Girl Meets World" is not what I was expecting. I waited months to see the hilarious dialect performed on "Girl Meets World" as well as "Boy Meets World", sadly this was not in place. So far in the premiere, it is very cheesy, as how I imagined Disney would make it. The plot is boring, the acting made me cry, and there isn't enough Topanga. Just like Disney would portray it as cheesy,sappy, and stupid. Some Easter Eggs in the show referring to "Boy Meets World" is "Ok". But since the show is made by Disney, I believe it will have no potential, lack of story, and no secret sexual jokes as I enjoyed in the series "Boy Meets World". The good thing about the show, is that Mr. Feeny appeared. I do have to give credit to the show, because its the first episode and its just letting us know who the rest of the characters are. In conclusion, -Bad Things, Not enough Topanga, No sexual jokes(Or funny jokes), horrible acting, horrible script, made by Disney. -Good Things,Mr.Feeny returning. In honesty this made me tear up a bit, knowing that the sequal of my favorite TV series, "Boy Meets Word", is coming to an end.

…

Expand