Network:

ABC

Series Premiere Date:

Mar 27, 2005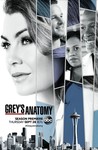 Starring:

Eric Dane

,

James Pickens Jr.

,

Sara Ramirez

Summary:

The doctors of Seattle Grace return for its fifth season and it includes guest Kevin McKidd as the newest doctor on the block.

Genre(s):

Drama
Creator:

Shonda Rhimes

Season 5 premiere date:

Sep 25, 2008

Episode Length:

60
Please enter your birth date to watch this video:
You are not allowed to view this material at this time.
It returns with an emotional and surprising (hint: you'll never look at icicles the same way) premiere.

All we need ask of Grey's is that it tell its stories well in its own way, and tonight it does.

Tonight, through the miracle of modern medicine, the show comes roaring back with a plot that includes the, er, trauma of Seattle Grace Hospital being downgraded from the number two facility in the state to the number 12.

The Grey's Anatomy writers acknowledge last season's ratings decline by offering a parallel plot that finds Seattle Grace's ranking as a teaching hospital suffering in tonight's entertaining and ridiculous-in-the-regular-Grey's-ways two-hour season premiere.

At some point, though, a program this reliant on workplace sexcapades begins to run out of combinations, and the writers haven't done much more to address the problem than pad on new layers of interns (starting with Meredith's younger sister, played by Chyler Leigh) to further confound things.

You expect the Big Moment on Grey's Anatomy, and the usual array of melodramatic developments in Thursday's two-hour season premiere. On the plus side, at least this episode isn't as padded and maddening as past two-hour Grey's episodes have been.

It's still the Meredere (or Deremere) show, and Cristina's right. It's just ... so ... over.
Grey's Anatomy is the best television show of the 21st century. The medical drama collaborates drama with romance, comedy and even a bit of

Grey's Anatomy is the best television show of the 21st century. The medical drama collaborates drama with romance, comedy and even a bit of medicine manages to get in the mix! The chemistry between the cast members is phenomenal especially the long-standing relationship between Ellen Pompeo's character Meredith Grey and Patrick Dempsey's character Derek Shepherd. They have a presence that makes the viewer feel warm and themselves as actors have an exceptional chemistry, personally two of my favourite actors. Also the friendship between Meredith and Sandra Oh's character Cristina is welcoming and comedic. It has a great storyline thanks to the amazing creator Shonda Rhimes.

…

Expand

Amazing. All the season, all the roles, everything was perfect. The best acting ever for a TV show for the entire cast: Ellen Pompeo in

Amazing. All the season, all the roles, everything was perfect. The best acting ever for a TV show for the entire cast: Ellen Pompeo in "Stairway to Heaven", Dempsey in "I Will Follow You Into the Dark"and "Stand By Me", Sandra Oh in "Elevator Love Letter", Heighl in "Stand By Me", Chambers in "Now or Never", Wilson in "Stairway to Heaven", Pickens Jr. in "No Good at Saying Sorry", T.R. Knight in "Here Comes the Flood", Sharon Lawrence in No Good at Saying Sorry", Tyne Daly in "Sympathy for the Devil", etc, etc, etc.
The show's best season finale, with a twisty event ending the season with the epic "OO7.. it's george.. John Doe is George" of Meredith..
AMAZING!!

…

Expand

Season 5 of Grey's Anatomy was just as good as ever. The beginning of the season sarted off a little slow but as the season progressed I fell

Season 5 of Grey's Anatomy was just as good as ever. The beginning of the season sarted off a little slow but as the season progressed I fell in love with some of the episodes. The Izzie-Denny story appeared wierd at first but as soon as I figured out that she was seriously sick my heart broke for Izzie and I completely understood what was going on. Season 5 was packed with MerDer scenes which always manage to put a smile on my face, except when McDreamy decides to be a McAss and call Meredith an unfixable lemon. But he got back on my good side with his adorable elevator proposal which was one of the best moments of the season and in geys history. And then who can forget the post it wedding which was perfect for Meredith and Derek. Alex and Izze had some good moments this season as well and I really do enjoy them togther. The finale of season 5 was a complete shocker to me. When John Doe was tracing 007 in Mer's hand it clicked right away...John Doe is George. And then Izzie started coding and viewers we left wondering who would live? Breathtaking finale and amazing season.

…

Expand

The plot lines are tiring. How many times can a writer use a Lesbian plot line? Too many to care about. The males characters are whiny and

The plot lines are tiring. How many times can a writer use a Lesbian plot line? Too many to care about. The males characters are whiny and the female characters are even whinier. The show will keep going in circles until, mercifully, it dies.

…

Expand

This show needs to go! It's so far from a realisim it hurts my head. It's like there trying to recruit idiots to be doctors and

This show needs to go! It's so far from a realisim it hurts my head. It's like there trying to recruit idiots to be doctors and nurses...who would never pass any of the requirements. Anyone who likes this show should be treated for depression.

…

Expand

This show has no story line, the doctors barely do anything related to medicine (unlike ER and House, heck even Scrubs has more medical

This show has no story line, the doctors barely do anything related to medicine (unlike ER and House, heck even Scrubs has more medical references than GA). it's basically a soap opera for prime time TV. There's a good reason why these kids of shows are on air during the daytime when most young people are at work or school. The only reason why this show is popular is beyond anybody's guess, but I know a lot of women who watch this show just so they can cry weekly.

…

Expand

Sorry, I forgot this was a medical show. I'd just hate to be a patient in Seattle Grace. I could be dying but no one will ever notice

Sorry, I forgot this was a medical show. I'd just hate to be a patient in Seattle Grace. I could be dying but no one will ever notice because they're all too caught up with their personal lives. It's always about the MerDer relationship! It couldn't hurt to get characters who actually care about their patients at just the right amount! Someone who doesn't ignore their patients or someone who gets too emotionally involved with them. This show is for people who don't have a life! It has many fans, sure! But most of those fans are probably jobless losers! If you want a medical show, go watch House MD, not this pathetic excuse for a tv show!

…

Expand